I always walk past the glass jars of roasted red peppers at the store and sigh wistfully. I know they're delicious… dripping with golden olive oil and fragrant with garlic. But each time I check the ingredients, there are nasty preservatives lurking at the bottom of the list. So I walk on, and fill my grocery cart with other items. One day, it dawned on me that they are probably stupendously easy to make at home. So I filled up a bag with red peppers and headed home to turn on the oven.
And I was right. They are beyond easy to make. And they are so good that it's actually hard to put into words. Everything good about red peppers is amplified a bajillion times and turned into a sweet, silky experience. They infuse with the taste of olive oil and roasted garlic and make everything (salads, eggs, steak, chicken) better.
Quick Facts: Red peppers contain more vitamin C than oranges. With fall approaching, vitamin C is a great way to keep your immune system up to snuff. Although cooking reduces some of the vitamin C content, it's mostly when vegetables are cooked for a prolonged amount of time in water. To that end, instead of boiling vegetables, try making vegetable soup: the water the vegetables boil in (where all the vitamins leach into) gets eaten as part of the soup so you don't end up pouring vitamin-rich water down the drain!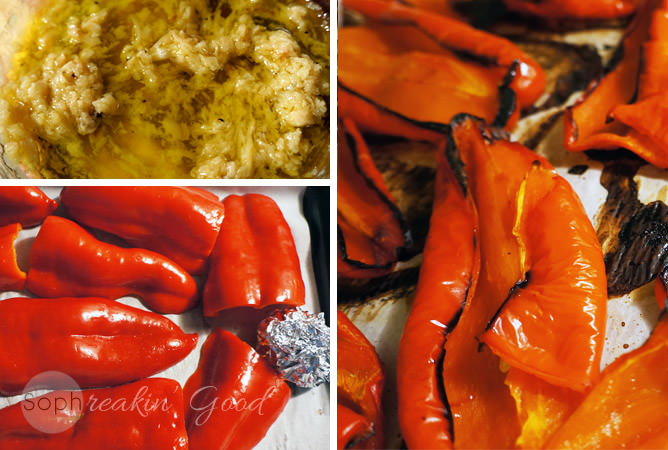 Directions
Preheat oven to 350

° F

.
Place garlic cloves into a piece of foil and seal to make a little package.
Arrange peppers skin side up on a baking sheet lined with parchment paper. Place garlic foil package on baking sheet as well. Place in the oven and set the timer for 20 minutes. At the end of 20 minutes, use tongs to flip all the peppers and place them skin side down. Roast for an additional 15-20 minutes.
When the skins are charred and blistered and the peppers are soft and floppy, they are done. Leave them to cool on the baking sheet for 20 minutes.
In the meantime, carefully remove the baked garlic and place it into whatever dish you will be marinating your peppers in.
Mash garlic with a fork and add to it the olive oil, vinegar, salt and pepper.
Once the peppers have cooled, use your hands to peel off the skins – they should come off easily if the peppers have cooked enough.
Place peeled pepper segments into the garlic and olive oil mixture as you go along.
Mix well with a fork so that peppers are evenly coated in oil and garlic and seal with a lid or plastic wrap.
Place in the fridge to marinate for several hours or overnight.
Enjoy!
Simple and delicious, roasted and marinated peppers are sophreakin' good!
Ingredients
As is common around here, this is more of a method than a recipe, so adjust amounts as needed.
5-6 large peppers (red bell peppers or Sheppard peppers – any colour pepper will work, but red tend to be the sweetest), cut in half lengthwise (seeds and stems removed)
4-5 cloves of garlic, peeled
1/4 cup extra virgin olive oil
1-2 tbsp white vinegar
pinch of salt
freshly ground black pepper