So you made some delicious salmon or rainbow trout for dinner. It's now the next day, and you're staring down a cold piece of fish and wishing it would turn into lunch. Maybe the situation is even more dire. Maybe the only thing you have on hand is a lonely can of salmon or tuna. What then? Hocus pocus baby… fish cakes.
Quick facts: These fish cakes make quick work of cold leftovers. What's more, they taste like you meant to make warm, crunchy, delicious fishcakes all along. Use whatever ingredients you have on hand – this is more of a method than a recipe – another great way to use up leftovers, kinda like this stir fry!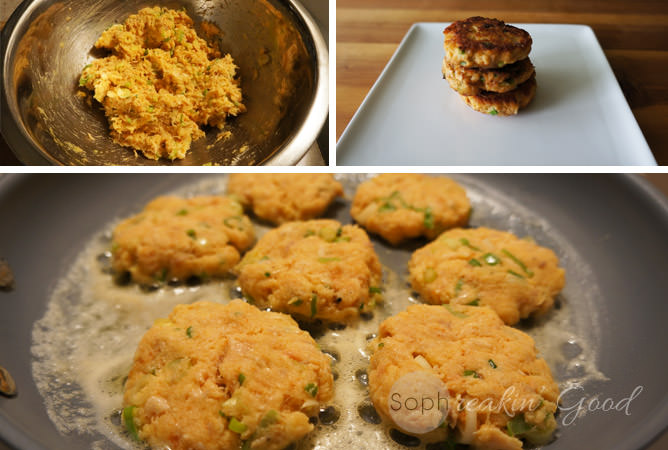 Directions
In a bowl, flake apart and mash the fish with a fork.
Add in egg, green onion, herbs and spices, and coconut flour.
Combine everything well with a fork – it should be a thick and sticky mixture.
Melt the butter in a large skillet over medium heat.
Make small patties out of the fish mixture with your hands and gently place onto the skillet.
Fry for 5-7 minutes and flip. Cook for an additional 5-7 minutes on the other side.
They are ready when a golden-brown crust forms on either side and your kitchen smells amazing.
Serve with a salad and spicy 'mayo' for dipping.
These fish cakes make quick work out of last night's dinner, or a great lunch out of boring canned fish. The next time you've got a leftover dilemma, try these simple fish cakes – they're sophreakin' good!
Ingredients
butter, coconut oil or ghee for frying
about 1 cup of cold cooked fish (bones removed) – rainbow trout filet, salmon steak or filet, canned salmon, canned tuna, canned sardines, etc.
1 egg
1-2 green onions, thinly sliced (you can also use 1/4 cup finely chopped regular onion or a clove of garlic, pressed)
1-2 tbsp fresh herbs, chopped (parsley, dill, cilantro, mint – alternately you can use dried herbs as well)
several pinches of salt
freshly ground black pepper
2 tbsp coconut flour
additional spices: cayenne pepper, cumin, coriander, paprika, etc.