This fig jam is the result of a package of dried figs that were impossible to bite through. I mean you could pretty much give these things to a teething shark with absolutely no worries that it would ever get through the skin. They were hard and dry and absolutely disappointing. So I decided to make something that is so much greater than the sum of its parts. Especially considering that the parts are just figs, water, and a squeeze of lemon juice.
Quick Facts: Dried figs are high in fiber and are a great way to get some iron and potassium. What's more, they're an excellent source of tiny little seeds that get stuck in your teeth.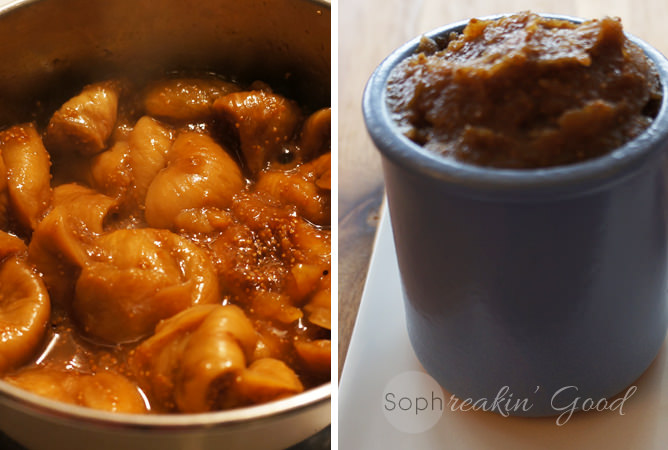 Directions
Cut the stems off the dried figs and cut each fig into several chunks.
Place cut figs into a bowl and cover with water. Allow to soak for 2-3 hours, or overnight.
Drain water and place figs into a small saucepan on medium heat. Add a few tablespoons of water to the cooking figs to prevent them from sticking to the bottom of the pan. Add in a squeeze of lemon juice and cook, stirring occasionally, until the figs are very soft and beginning to break down.
Place cooked figs in a blender and blend until smooth. If the mixture is too thick to blend, add in a few tablespoons of water (one at a time) until the desired consistency is reached.
That's it! No sweeteners or thickeners required for this delicious fig jam!
This jam tastes incredible with some good quality cheese (Havarti, anyone?) and a nice cup of tea! Give it a try – it practically makes itself, and is sophreakin' good!
Ingredients
1 package of sundried figs without preservatives (the size doesn't really matter as this is more of a method)
water to soak figs
squeeze of lemon juice