I usually have eggs for breakfast. Nothing else is quite as nourishing, filling and delicious. But sometimes, I get a hankerin' for pancakes. Specifically banana pancakes. And now that the Jack Johnson song is playing in your head, let's talk about these grain free dark chocolate banana pancakes.There's something incredibly intoxicating about the aroma of vanilla and cinnamon filling up the kitchen in the morning. These pancakes are made with a handful of ingredients and, unlike regular pancakes, will keep you full for a while – the sunflower seed butter packs a protein punch that will keep you from being ravenous 20 minutes after you finish breakfast. And although I didn't count how many pancakes this recipe makes (it depends how big you make 'em!), this amount of batter makes enough pancakes to keep two of us happy until lunchtime. Quick facts: These banana pancakes are a great way to use up overripe bananas (unless you're planning on making banana bread). They come together quickly, and are absolutely indulgent. The next time you're stuck in a breakfast rut, try these! Or, you could break with convention and have breakfast for dinner – who said pancakes are just for the a.m.?!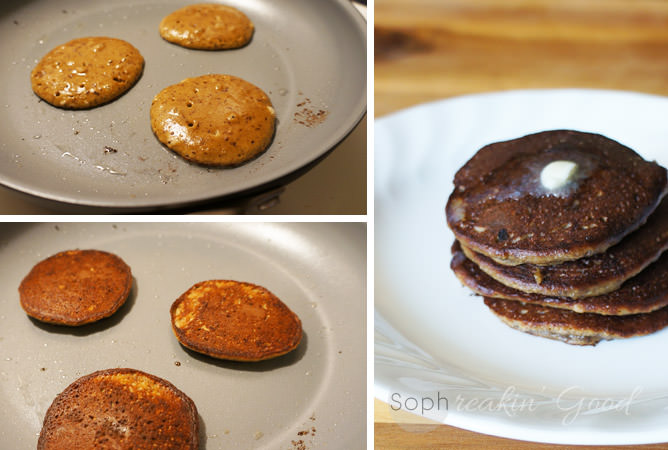 Directions
In a large bowl, combine bananas, eggs, coconut oil, and vanilla and nut butter with an immersion blender (this can also be done in a regular upright blender).
Once the mixture is slightly frothy, add in cinnamon, coconut flour and grated chocolate – whisk to combine.
Let the mixture sit for 5-10 minutes – in the meantime, melt coconut oil (or butter) in a skillet over medium heat.
Pour the batter onto the pan using a large soup spoon or a small ladle.
Once the edges are crispy and bubbles start to form (about a minute), flip the pancakes and cook for an additional minute or two on the other side.
Continue until all the batter has been used up – serve with butter, maple syrup, honey, fresh fruits, tvorog… the options are endless!
Simple to make and delicious for breakfast or anytime, these dark chocolate banana pancakes are sophreakin' good!
Ingredients
2 very ripe bananas, mashed
2 eggs
1 tbsp coconut oil, melted
1 tsp vanilla
1/2 cup sunflower seed butter (almond butter or other nut butters would work as well)
1 tsp cinnamon
2 tbsp coconut flour
1-2 squares of dark chocolate, micro-planed or grated (I used 2 squares of Lindt 85%)
coconut oil or butter for frying