Believe it or not, the first time I tried guacamole was at a Mexican resort when I was already much too old to have been missing out on guacamole! It blew me away – so simple, and yet so flavourful! I've been making it myself ever since, and this particular version is my favourite.
It's a classic – creamy avocado and bright herbs make it absolutely delicious! Serve it as a side dish to a Mexican-themed meal, as a salad to go with eggs in the morning, or as a dip for sliced veggies!
Quick facts: full of heart-healthy fats, avocadoes are a nutritional powerhouse! Add in cilantro and parsley for some anti-oxidant good measure and you're guaranteed a delicious, nutritious dip!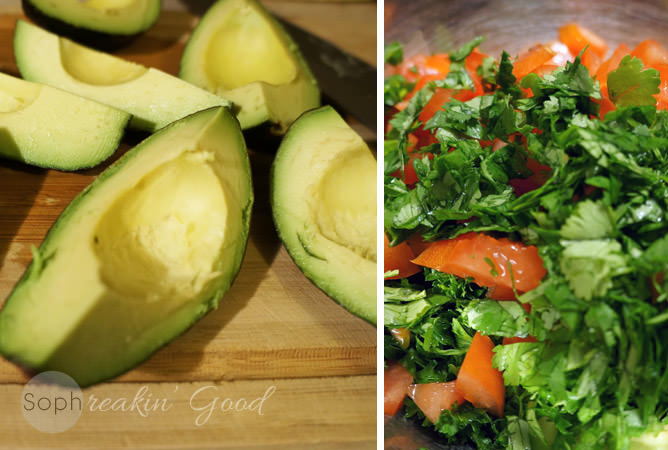 Directions
Place avocadoes in a bowl and mash against the sides of the bowl using a fork.
Add in the remaining ingredients and stir well to combine.
Taste for seasoning and adjust salt and pepper as necessary.
Enjoy!
This delicious cilantro lime guacamole is bright and delicious and, of course, sopheakin' good!
Ingredients
2-3 ripe avocadoes, peeled (depending on their size and how creamy or chunky you like your guacamole to be)
2 Roma tomatoes, finely diced
2 green onions, thinly sliced
1/4 cup parsley, finely chopped
1/4 cup cilantro, finely chopped
juice of a whole lime
several pinches of salt
freshly ground black pepper