First, let's talk about sharlotka. Technically, it's a diminuitive term for something or someone named Charlotte. That's just the way Russian suffix-ing works. But what is a Charlotte-ka, or sharlotka? It's Eastern Europe's version of apple pie.
It's basically a baking dish that gets filled with cubed apples and then some sort of batter to hold the whole 3D mosaic together. Traditionally made with flour, sugar and sour cream, it's a fruit-heavy concoction that seems to defy baking physics at every turn.
Now, let's talk about this sharlotka. It contains no flour, white sugar or sour cream. It is a completely grain free, gluten free version of my childhood nostalgia. But it tastes exactly like the real thing. I would say even better (of course I would…) because the batter is so much more tender and flavourful than a typical flour-sugar mix. This particular version came about because of an abundance (with a capital A) of apples after a very ambitious trip to the park, where the husband and I found dozens of apple trees, brimming with green and red apples. A picnic table moved under the tree and a few shopping bags later, we had something close to 20 kg (yes, you read that correctly, and yes, we shared with family and friends) of apples. Local apples that had only been pestered by the Canada geese. On the suggestion of a friend, I decided to use up some of the apples in the best way possible – recreating my mom's sharlotka without grains or processed sugars. And I am so glad I did.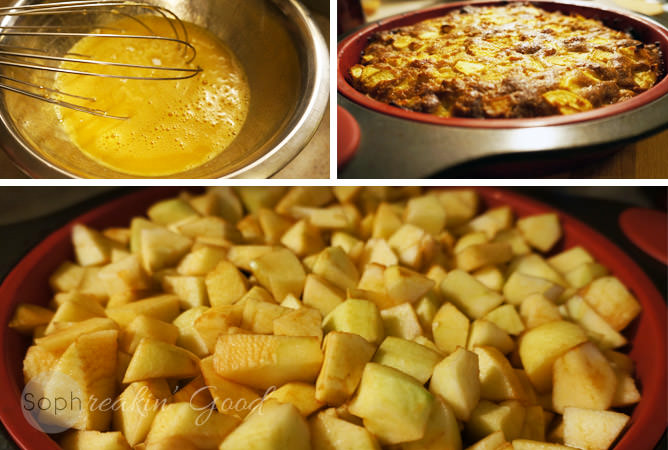 Directions
Preheat oven to 350

° F

.
Fill your baking dish of choice with cubed apples and set aside – this is to measure out your apples.
In a large bowl, whisk together eggs, honey, vanilla and coconut oil. Add in salt, baking soda, almond meal and coconut flour and whisk until well incorporated.
Pour the cubed apples into the batter mixture and mix together gently until everything is coated.
Grease the baking dish (I used a silicone pan, so I didn't need to).
Pour the entire mixture (carefully) back into the greased baking dish and shake gently so everything settles in. You can use a spoon to spread out all the apple pieces evenly.
Bake for 30-35 minutes, or until the top is a beautiful golden brown and a toothpick instered into the middle comes out clean.
Allow the sharlotka to cool for 15-20 minutes, then flip out onto a serving plate.
Slice and enjoy!
Ingredients
3-4 medium (or 5-6 small) apples, cubed (this is enough to completely fill a standard pie dish)
4 eggs
1 tbsp honey, melted
1 tsp vanilla extract
1/4 cup coconut oil, melted
pinch of salt
1 tsp baking soda
1/2 cup almond meal (or finely ground blanched almonds)
3 tbsp coconut flour