So, looking at the picture, some of you may be thinking, "those are just bunless burgers". But that is where the Russian babushka (or grandmother) in me has to interject and pontificate: there is a very fine distinction between burgers and kotleti, which is what these are. Kotleti is the Russian word for cutlets, and anyone with an Eastern European grandmother knows that kotleti are never eaten with buns, and make your house and your clothing smell like kotleti for the foreseeable future. But what they lack in subtlety, they make up for in flavour, big time. Pungent with the aroma of garlic, cumin and paprika, these beef cutlets are sure to make an impression.
Quick facts: Make these cutlets with the highest quality beef you can find – preferably grass fed and free of growth hormones. Garlic is the real superstar in this recipe, thanks to its flavour and to its incredible health properties: anti-inflammatory, anti-bacterial and rich in vitamin C, to name a few! And let's not forget the spices! Coriander and cumin, the antioxidant duo of Middle Eastern cuisine, cayenne pepper for its anti-inflammatory properties, and sweet, earthy paprika for balance.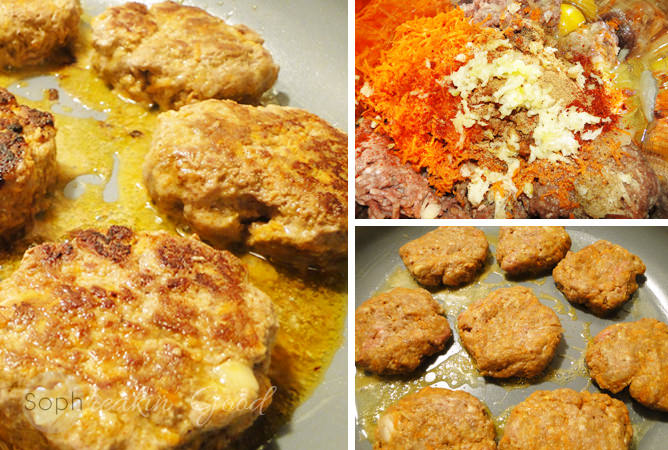 Directions
Combine all the ingredients (except for butter) in a large bowl. The best (and most fun) way to ensure everything is incorporated is to work the mixture with your hands. If you have a cut, or long nails or are particularly squeamish, simply turn a clean produce bag inside out (the thin grocery store kind) and place it over your hand before mixing.
Once all of the ingredients have been thoroughly mixed, set aside and heat up some butter in a large skillet over medium heat. Take golf ball-sized amounts of the ground beef mixture and roll between your palms. Flatten out the ball and place into the hot pan.
Cook for about 5-6 min, then flip and cook for 5-6 minutes more. The cutlets are ready when a golden-brown crust forms on each side and the beef is fully cooked through.
Serve immediately.
These cutlets keep for several days if refrigerated and are delicious eaten cold as well!
Packed with protein and loaded with flavour, these garlicky beef cutlets are sophreakin' good!
Ingredients
1 kg high quality (preferably grass-fed) ground beef
1 medium carrot, finely grated
1 small onion, finely grated
4-5 cloves of garlic, crushed
2 eggs
1 tbsp coriander
1/2 tbsp cumin
1 tbsp paprika
1 tsp cayenne pepper
1 tbsp celery seeds
freshly ground black pepper
several pinches of good quality salt (such as Himalayan pink salt or Herbamare

®

)
1-2 tbsp butter for the pan