This recipe is super simple to make and combines the amazing flavours of sautéed bok choy with earthy, mellow enoki mushrooms. It works perfectly as a side for rice free maki rolls or some sesame maple salmon.
Quick facts: Full of antioxidants, potassium and folic acid, bok choy is a great leafy green to incorporate into your diet. But appearances can be deceiving – it wilts down to much less than its uncooked state! What's more, enoki mushrooms are a great source of antioxidants, and some epidemiological studies have linked them to lowered rates of cancer in some parts of Japan where they are grown. Enoki mushrooms can be found in most supermarkets, especially in specialty Asian markets.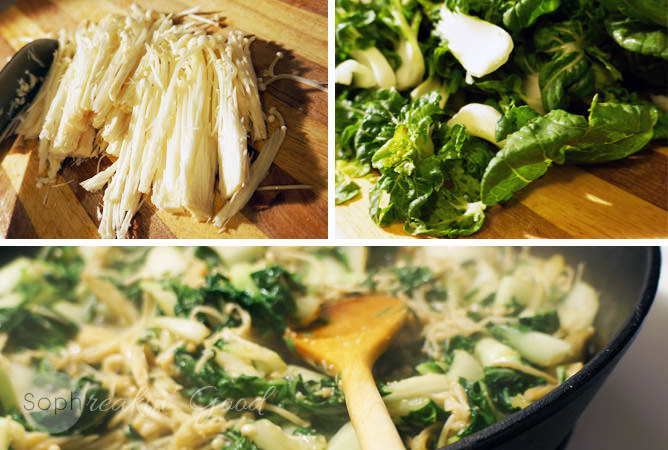 Directions
In a large (cast iron) skillet, heat up butter.
Add in mushrooms and garlic and cook, stirring frequently, until mushrooms are soft and garlic is fragrant.
Roughly chop the bok choy and add it to the mushrooms.
Add in tamari and spices and cook until the bok choy has wilted down and the liquid it has released has cooked down.
Serve hot with a fresh squeeze of lemon juice.
This bok choy with enoki mushrooms is so easy to make and tastes sophreakin' good!
Ingredients
butter, coconut oil or ghee for frying
1 package of baby bok choy (about 20-30 baby boy choys), ends trimmed, washed and spun or patted dry
2 packages of enoki mushrooms, separated
2 cloves of garlic, micro-planed or pressed
1 tbsp tamari
1 tsp granulated onion
pinch of salt
squeeze of lemon juice