This slaw is not the mayonnaise-laden uniformity that is typical barbeque fare. It is light, crunchy, and studded with bright green herbs. There's also no cabbage in it – celeriac just seems like more fun in this recipe. Celeriac has been called the worlds ugliest vegetable by some, while others call it celery root or knob celery. Regardless, it has a light, buttery crunch to it that I find works perfectly in this salad. Paired with sweet carrots, earthy parsley and pungent cilantro, celeriac shines in this spin on a traditional coleslaw.
Quick facts: Celeriac is rich in minerals and vitamins, including potassium and magnesium, vitamins C, K and B6. It is thought to help in lowering blood pressure and reducing the risk of stroke. What's more, our antioxidant friends parsley and cilantro feature heavily in this recipe.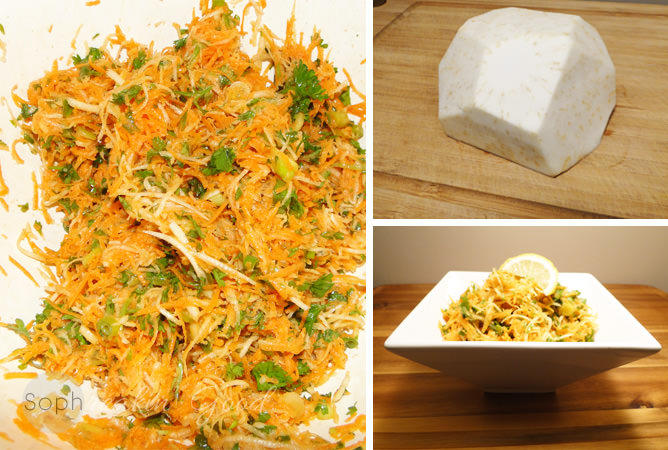 Directions
In a large bowl, combine celeriac, carrot, parsley, cilantro and green onions.
In a small bowl, mix together maple syrup, sunflower seed butter, coconut oil, lemon juice and salt to make dressing.
Pour dressing over slaw and toss to combine.
Simple to make, this sweet celeriac slaw is crunchy and satisfying. It's sophreakin' good!
Ingredients
1/2 medium celeriac, peeled and finely grated
1 large carrot, peeled and finely grated
1/2 cup of parsley, finely chopped
1/2 cup of cilantro, finely chopped
2 green onions, finely chopped
1/2 tsp pure maple syrup
1 tbsp sunflower seed butter
1/2 tbsp coconut oil
juice of half a lemon
pinch of good quality salt (such as Himalayan pink salt)