Whenever it comes to overripe fruit, there will always be excuses: they were lying right next to the bananas… they were so beautiful at the store, how could I not buy an entire basket of them!? Regardless of the season or the type of fruit, this crumble is the excuse you've been looking for!
Luckily, coming up with ways to use of overripe fruits is one of my favourite ways to develop recipes. Much like this banana bread, this plum crumble came about because of a massive basket of tiny yellow plums that went from hard and sour to soft and mushy practically overnight.
Quick facts: You can use any fruits in this crumble – it's really more of a method. Apples, peaches, strawberries, pears… the possibilities are endless!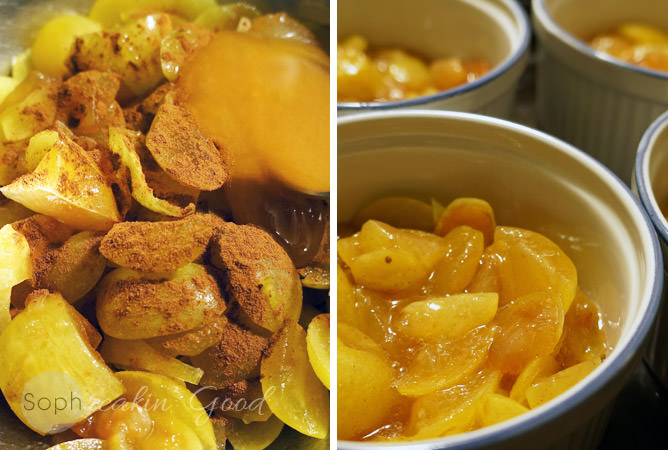 Directions
Preheat oven to 350

° F

.
In a bowl, combine plums, cinnamon and honey. Stir well to combine. Spoon mixture into ramekins, or another oven-safe dish.
In a food processor (or Magic Bullet), pulse coconut oil, flax seeds, coconut, almonds and sunflower seeds until they reach a sand-like consistency.
Spoon nut and seed mixture over the fruits to form a sort of crust on top.
Bake for 10-15 minutes, or until the crust has toasted up nicely and the filling is bubbling.
Let cool for a few minutes and serve as is, or with a dollop of yogurt, whipped cream, etc.
This plum crumble is a great way to use up leftover fruits – it's simple and sophreakin' good!
Ingredients
This is more of a method than a recipe – feel free to adjust quantities as needed.
2 cups of plums, cut into pieces
1 tsp cinnamon
2 tbsp honey, melted (if you're using a sweet fruit like peaches, feel free to omit the honey – these plums were just a bit sour)
2 tbsp coconut oil, melted
2 tbsp flax seeds*
2 tbsp unsweetened shredded coconut*
3 tbsp slivered almonds*
3 tbsp roasted sunflower seeds*
* you can substitute any of these with your preferred combination of nuts and seeds