Most maki rolls contain rice, but yours don't have to! Making maki rolls is simpler than you'd think, and requires just a handful of ingredients, the most obvious being nori (dried roasted seaweed). You don't even need a little bamboo rolling mat! The rolls in this recipe use smoked salmon, cucumber and avocado, but these could easily be made with shrimp, teriyaki chicken or beef!
The spicy 'mayo' used in this recipe isn't mayo at all, but a blend of sour cream, Dijon mustard and spices. Of course, you could always make some homemade mayo with cayenne pepper! If you're aiming for a philadelphia roll flavour profile, you could also use plain cream cheese!
Quick facts: Dijon mustard is used in the spicy 'mayo' as it is has a similar flavour profile to wasabi (if you happen to have wasabi powder on hand, use that instead!) Both are members of the sinus-clearing Brassicaceae family, along with horseradish and arugula.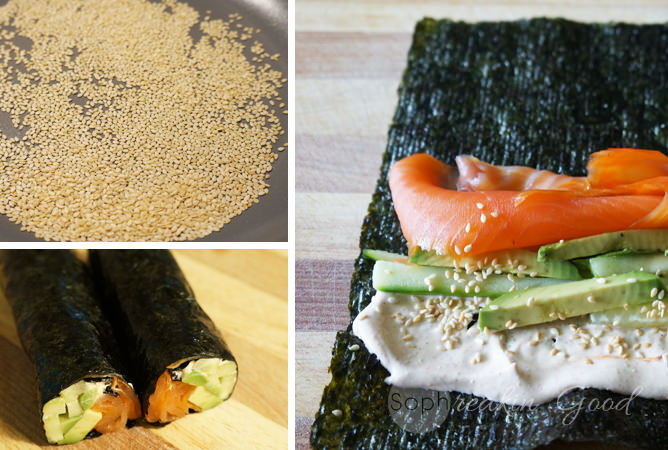 Directions
Lay a sheet of nori on a flat cutting board, shiny side down.
Spread a spoonful of spicy 'mayo' across the bottom edge of the nori.
Sprinkle some toasted sesame seeds across the 'mayo', then lay out several strips of cucumber and avocado.
Place a few pieces of smoked salmon across the sheet of nori.
Starting at the bottom, carefully roll the nori away from you to form a tight cylinder. Wet the ends of your fingers and use them to seal the roll (almost like sealing an envelope).
Keep the sealed edge at the bottom of the roll and use a sharp knife to cut the cylinder in half.
Repeat as many times as needed to use up the ingredients.
Making maki rolls is super simple and doesn't require rice! Try these simple maki rolls – they're sophreakin' good!
Ingredients
This recipe is a method for making rolls, so approximate measurements are used
several sheets of nori (dried roasted seaweed)
avocado, sliced into strips
English cucumber, sliced into strips
several slices of smoked salmon
several tablespoons of sesame seeds, toasted
Spicy 'mayo'
1/2 cup full fat sour cream
2 tbsp Dijon mustard
squeeze of lemon juice
1 tsp cayenne pepper
1 tsp granulated garlic