The trick with this recipe is freezing the sliced cabbage beforehand. With just an ounce of forethought, this unbelievably flavourful side dish takes almost zero effort to make!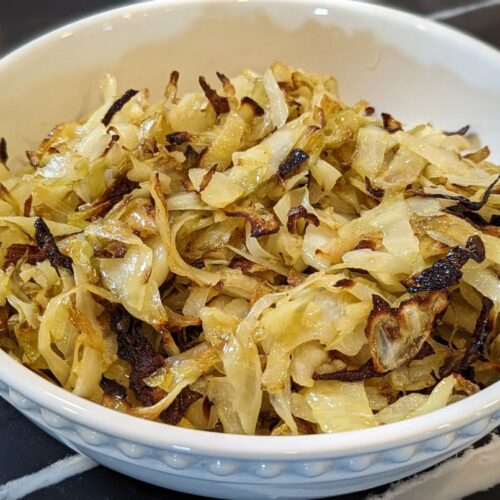 Easy Roasted Cabbage
Who knew that the humble cabbage could take on such depth of flavour?
Ingredients
1

head

cabbage

1-2

tbsp

olive oil

pinch

salt

(to taste)
Instructions
Slice cabbage into thin strips and place in a large freezer bag. Roll out all the air while sealing, then place in the freezer for several hours, or overnight. I generally keep a bag of sliced cabbage in the freezer at all times in case of side-dish emergencies.

Preheat the oven to 375 F and line a baking tray with parchment paper

Dump frozen shredded cabbage onto baking tray, drizzle with olive oil, season with salt and toss to combine. Spread out into a thin, even layer and place in the oven.

Roast for ~30 minutes, checking frequently and stirring the cabbage around as needed. Some of the thinner slices will get extra caramelised and crispy, which makes this dish even more delicious!
Video
Much like boiling, freezing the cabbage works to tenderise it, creating a delicious flavour when roasted!