The glaze for this salmon is my go-to whenever I'm making fish. It's the perfect balance of salty, sour, and sweet. This fish turns out perfect every time, whether you're grilling it or baking it, or even if it's not salmon at all, but some other kind of fish, like rainbow trout or tilapia! This is a great place to start if you're intimidated by making fish, and a simple sauce to add to your repertoire in place of simply sprinkling fish with salt and pepper. Put a little more love into it, and you're guaranteed moist, juicy, slightly tangy, slightly sweet, delicate fish every single time!
Quick facts: Fish is a rich source of omega 3 fatty acids, which reduce systemic inflammation, thereby lowering the risk of heart disease, cancer, stroke and depression, among other things. What's more, omega 3 fatty acids are essential for glowing skin and healthy looking hair and nails.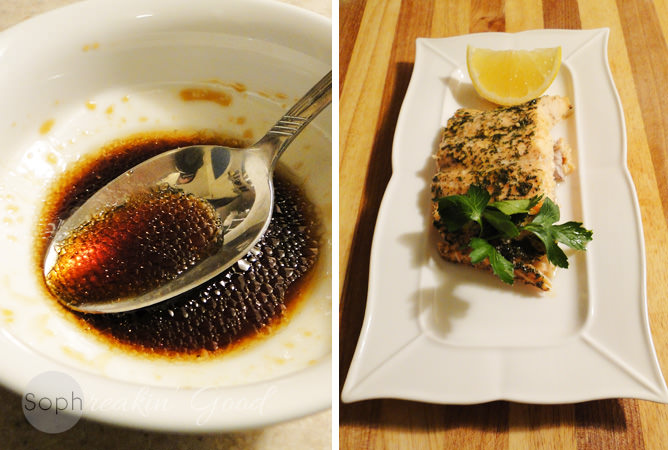 Directions
Preheat oven to 350

° F

.
Line glass baking dish with aluminum foil or parchment paper.
Place fish skin side down on baking dish and pat dry with a paper towel – remove any rogue scales or bones that are on the surface.
Sprinkle fish with a generous pinch of salt, freshly ground pepper, and dill.
Combine lemon juice, maple syrup, tamari and sesame oil in a small bowl. Using a silicone brush or a large spoon, coat the filet.
Bake for 15-25 minutes, depending on the thickness of the filet and your oven. It's better to be cautious and take the fish out after 20 minutes to check, than to overcook it, as it will become dry. Generally, a large, thick salmon filet will take about 25 minutes, while a small rainbow trout filet may only take 15 minutes. The fish is done when it flakes apart easily with a fork, and is a uniform colour throughout.
This fish is delicious right away, and equally as good eaten cold as leftovers. Whip up this quick sesame maple sauce and make your fish sophreakin' good!
Ingredients
fish of choice – I used salmon filet for this recipe, but salmon steaks, or even rainbow trout filets would work equally well
several pinches of good quality salt (such as Himalayan pink salt or Herbamare

®

)
freshly ground black pepper
1 tbsp dried dill
3-4 tbsp freshly squeezed lemon juice
1 tbsp pure maple syrup
1 tbsp tamari (wheat free soy sauce) or coconut aminos
1 tsp toasted sesame oil