The most common question I get asked is usually formulated along the lines of "what can I make with (insert any food item imaginable here)?" Sometimes the answer is simple: butternut squash? Velvet Butternut Squash Soup! Kale? Kale chips? But other times the answer takes a bit more thought, especially when it comes to leftovers. So here we have the first of many recipes that will be tackling what to do with those perfectly good but sorta sad looking leftovers. Or what to throw together when you have a little bit of this, a tiny bit of that, and half a container of the other crowding up your fridge.
This recipe is an Asian-inspired stir fry perfect for using up leftover meat and vegetables of any kind! (Nokorimono literally meansleftovers in Japanese!) My favourite combination of vegetables to use for stir fry is mushrooms, peppers and broccoli, but feel free to use any vegetables you have lying around. There are four key elements that make this stir fry unbearably delicious – vegetables, meat (possibly scrambled egg if you really want stir-fry but have no leftover meat), the sauce, and a little bit of kitchen wizardry wherein unsuspecting vegetables are transformed into the ever-important "noodles" that make stir fry so ubiquitously satisfying!
Quick Facts: You can pretty much replace noodles in any recipe with a little bit of creativity. Most of the time, as in this soup recipe, a carrot and a julienne peeler (or mandoline) will suffice. Craving a spaghetti dinner? Spaghetti squash! Lasagna? Grill some super-thin eggplant slices. You get the idea. I'll do my best to post recipes that replace pastanoodlesspaghettimacaroni with nutritious, delicious alternatives – but keep in mind that it's not always about swapping one thing for another – it's about eating delicious, nutritious foods of all kinds!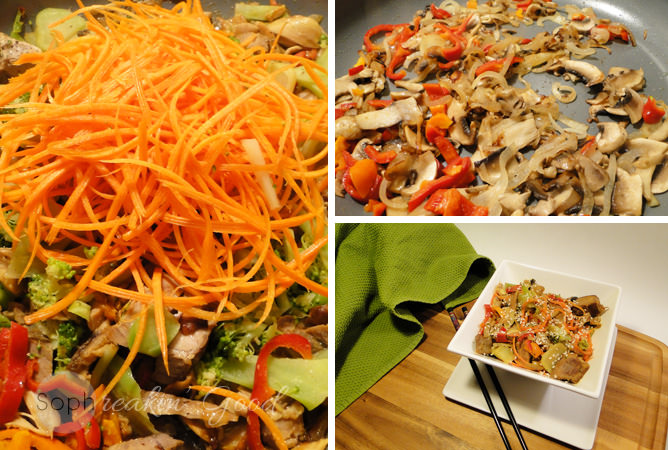 Directions
In a large frying pan or wok, heat up some ghee and sauté your vegetables. If using broccoli or cauliflower, blanch for 5 minutes in boiling water prior to adding to the pan.
Add in leftover meat and continue to sauté to reheat.
Meanwhile, mix together sauce ingredients in a small bowl and pour over vegetables and meat. Stir well.
Finally, add "noodles" to the pan and cover with a tight fitting lid. Cook for 5-6 minutes; the steam created under the lid of the pan will soften the "noodles", giving them the perfect texture.
Optional: top with sesame seeds or sliced avocado (or both!)
A great way to use up leftovers, this nokorimono stir fry is a great basic recipe that can be adapted to whatever you happen to have on hand. Delicious, nutritious and total comfort food, it's sophreakin' good!
Ingredients
Vegetables
1 medium onion, thinly sliced
1 small head of broccoli or cauliflower, cut into small florets
1 bell pepper, any colour, thinly sliced
3-4 mushrooms (button, cremini, portabella, portobello), thinly sliced
any other appropriate vegetables – a few stalks of thinly sliced celery, eggplant, zucchini or green onions, for example
a few tbsp of ghee (or butter, or coconut oil) for sautéing
Meat
Any leftover cooked meat, including chicken, turkey, steak, veal, pork, lamb or natural sausage, thinly sliced
In the absence of leftover meat, simply scramble 2-3 eggs and add into the stir fry near the end of cooking
Sauce
Juice of one lemon (or 2 clementines)
2 tbsp tamari (or coconut aminos or soy sauce)
1 tbsp maple syrup (or honey)
1 tsp toasted sesame oil
2 tbsp sunflower seed butter (you can also use any other nut or seed butter, such as peanut butter or tahini)
"Noodles"
1 medium carrot, julienned (you can also use a julienned celeriac, beet, or daikon radish)
Alternately, thinly slice some cabbage into long noodle-like strips