Chicken soup is one of those things that crosses cultural divides. Officially known as Jewish Penicillin, every culture has its own version. This chicken soup is pretty much the easiest soup to make in the universe – but it tastes so unbelievably rich, warm and comforting. Whether you're coming down with a cold or it's just cold outside, there's nothing better to warm the soul than chicken soup.
Quick facts: No wonder it's good for what ails you: boiling chicken bones leeches vitamins and minerals from the bones into the soup. Although that sounds less than delicious, it means that chicken broth is loaded with good stuff to get you healthy if you're feeling under the weather. You can add any herbs and spices you like to customize this chicken soup recipe, as well.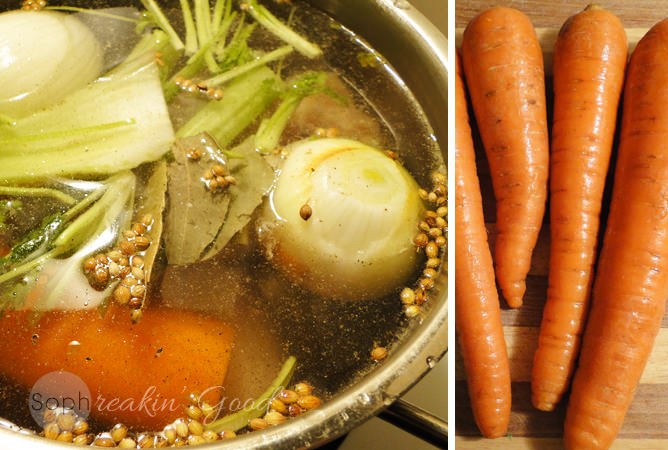 Directions
Place all ingredients into a large stockpot.
Cover with cold water until the pot is about 3/4 full and all the ingredients are submerged.
On medium heat, bring soup to a boil. Skim foam off the top of the soup with a wooden spoon and discard.
Allow soup to simmer for 2 hours, skimming any additional foam off the top and adding water if needed.
Check for seasoning and adjust accordingly once soup has cooled slightly.
That's it! Making homemade chicken soup is unbelievably easy! Purge your pantry and never let it see a can of soup again!
Garnish with carrot noodles, sliced mushrooms, strips of nori (roasted seaweed), or other noodle alternatives.
Homemade chicken soup practically makes itself! Simply add the ingredients to a pot of water and simmer! It's easy, delicious and sophreakin' good!
Ingredients
1 whole chicken or 4 chicken quarters or 6-8 drumsticks (preferably free range)
2 medium onions
2 medium carrots
2 celery stalks
3-4 bay leaves
1 tbsp whole peppercorns
1 tbsp coriander (whole)
several pinches of good quality salt (such as Himalayan pink salt or Herbamare

®

)
1 tsp cayenne pepper
1 tbsp turmeric