I have been making these flourless plantain waffles since I first discovered paleo over a decade ago. Since having kids, this gluten free plantain waffle recipe has become a Saturday morning staple at our house, and our whole family is obsessed. We even make french toast with the leftovers sometimes on Sundays! Give them a try and see for yourself – they're sophreakingood!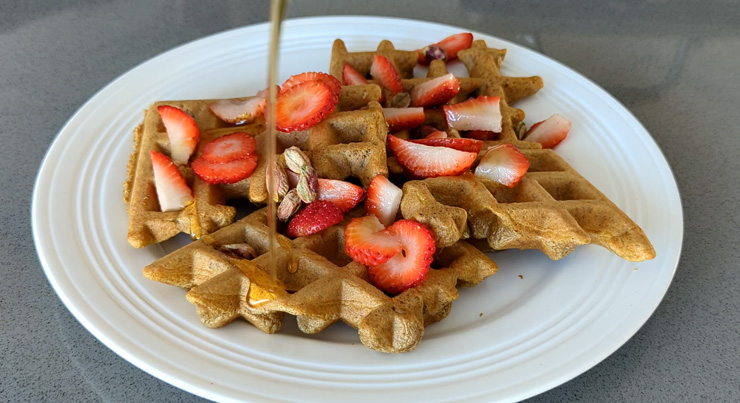 Gluten Free Plantain Waffles Recipe
Grain free and gluten free waffles that are crispy on the outside and fluffy on the inside. Sound too good to be true? Well, I'm here to tell you that they exist, they're super easy to make and they are Sophreakingood! The golden ratio is 1 (average sized) plantain to 2 eggs. Feel free to double or triple this waffles recipe as needed.
Equipment
1 Waffle Maker

1 High Speed Blender
Ingredients
2

2green, unripe plantains

4

eggs

1

pinch

salt

1

dash

vanilla extract

1

tbsp

coconut oil

or other fat

1

tsp

baking soda
Instructions
Peel plantains using either a sharp knife to slice the skin off, or by scoring along the ridges of the plantain and carefully peeling the skin off with the side of your finger (see video for details).

cut into chunks and add to a high speed blender or food processor, along with the rest of the ingredients

Blend into a smooth batter

pour batter into preheated waffle iron (or into pancakes on a hot skillet!) and cook until waffles are crispy on the outside

serve IMMEDIATELY with any toppings you'd like. I love peanut butter and a drizzle of maple syrup, or cream cheese and smoked salmon. Super simple and Sophreakingood!
Video
Frequently Asked Questions
What are plantains?
Plantains are the bigger starchier cousin of the banana. They are used the world over for various recipes, both in their unripe form (green and hard) and when ripened (yellow or brown/black and softer). Sometimes ripe plantains are called maduros. When they are unripe and green, they contain a lot of resistant starch, which is basically food for our gut bacteria (also known as prebiotics). Feeding your gut bacteria resistant starch is a great way of promoting gut health!
How do I peel a plantain?
Ripe plantains can be peeled similar to a banana. However, unripe plantains require a bit more work. The best method I have found so far is scoring along the ribs of the plantain with a sharp knife, then lifting up the skin using the side of my finger. At times, even this is not enough, at which point a sharp paring knife can be used to peel away the skin, much like on a potato.
Can I freeze these paleo plantain waffles?
These waffles are absolutely the best fresh off the waffle iron while they're crispy – they tend to soften if left sitting around. However, they can be refrigerated or frozen in a zip-top bag and then reheated either in a toaster or in the waffle iron. My favourite way of heating up leftover waffles is on a skillet with a few sunny-side up eggs!
Can I make them with yellow plantains?
These waffles would still work with ripe plantains, but they would have a sweeter flavour profile with more of a banana flavour. As well, since ripe plantains are less starchy, you may need to adjust the quantity of wet ingredients to get the right texture.
Are these plantain waffles AIP compliant?
Because there are eggs in these waffles, they are not AIP compliant, even though plantain generally is. However, they are paleo, grain free, gluten free and vegetarian!