I have a confession to make: I'm completely incapable of not having tea after I've eaten a meal. Earl grey, chai, jasmine green… it doesn't matter. A meal is not over until I've had my cup of tea. I've heard from others with a similar affliction that this is an Eastern European thing… regardless, it's a ritual at my house. More often than not, I'll have something small and slightly sweet with my tea. A square of dark chocolate, a fruit and nut ball, or one of these bad boys. These little golden morsels are the perfect bite-sized tea companion. Made with just a short list of ingredients, they're mildly sweet and very nutty. The batter can be poured into a tin and baked as a cake, or it can be spooned into little paper molds and baked into tiny mini muffins.
Quick facts: These muffins are grain free and therefore gluten free. Instead of white flour, they are made with ground almonds – almonds are a great source of protein and are rich in vitamins, minerals and antioxidants. They're also rich in monosaturated fats, an important factor in cardiovascular health.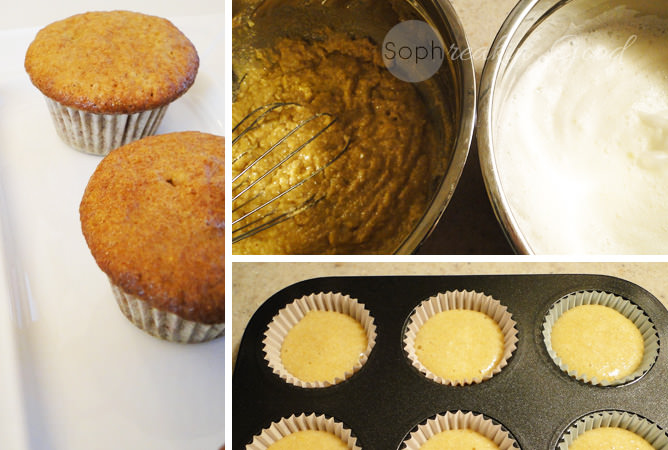 Directions
Preheat oven to 350

° F

.
Line mini muffin tray with paper muffin liners (or grease individual muffin wells)
In a large mixing bowl, cream together honey, egg yolks and vanilla using an immersion blender, electric mixer, or a whisk.
Stir in ground almonds, baking soda and salt.
In a separate bowl, beat egg whites until they have doubled in size and are forming soft peaks.
Fold egg whites into honey mixture using a rubber spatula.
Carefully spoon batter into muffin cups until they are almost full.
Bake for 13-15 minutes, or until muffins are golden brown and a toothpick inserted into a muffin comes out clean.
Lightly sweet, deliciously chewy and incredibly easy to make, these mini muffins are sophreakin' good!
Ingredients
1/3 cup honey
4 eggs, separated
1 tsp pure vanilla extract
1 3/4 cups almond flour/meal*
1 tsp baking soda
1/2 tsp salt
* You can also grind whole almonds in a food processor