This soup holds many secrets. I'd be crazy to share them here – then everyone could just get up and re-create this soup in their kitchen! It's not like this is some sort of food blog or something!! Oh wait…
Well, in that case, let me just start by saying that this mushroom soup is equal parts delicious, comforting and warming. Not to mention the tasty secrets that make this soup irresistible…
Secret number one: there are no actual noodles in this soup. There are, however, julienned carrots that are added at the very end, providing the perfect al dente texture. Secret number two: this soup has a fiery kick to it thanks to a healthy dose of cayenne pepper. And secret number three? I guess that will just have to remain a secret…
Quick facts: Cayenne pepper gives this soup a fiery edge, and contains capsaicin, which gives peppers their heat and helps to rev up metabolism by increasing blood flow throughout the body. Mushrooms are a great source of B vitamins, as well as minerals such as selenium and potassium. Every cook and their mother seems to tout that mushrooms just need to be wiped with a damp cloth because they're like little sponges and if you wash them, they'll absorb all the water and turn to mush. But let me to remind you that mushrooms grow in dank, moist areas in the dirt. In fact, there's often visible dirt on them when you buy them at the grocery store! And yes, mushrooms are like little sponges when it comes to flavour, much like eggplant, but everyone washes eggplant! The best rule of thumb is that mushrooms need a shower, not a bath. It's important to wash mushrooms, just don't soak them for prolonged periods of time – rinse them under running water and scrub the dirt off with your fingers. It's that simple!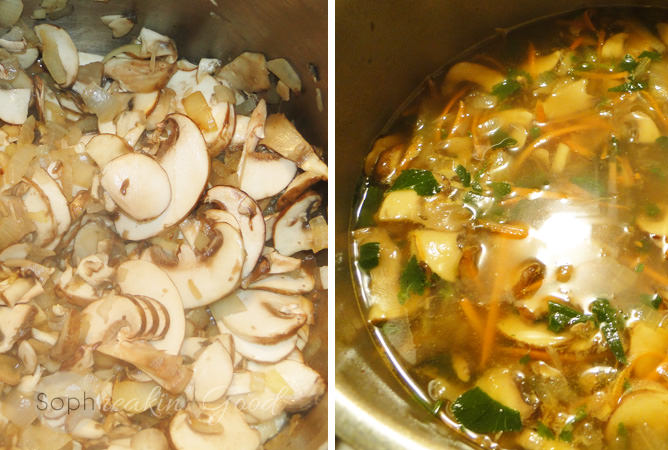 Directions
Fill the kettle with water and turn on.
Heat up ghee in a medium sized pot over medium heat and add diced onions. Cook onions for about 5 minutes, stirring occasionally, until soft and translucent.
Add sliced mushrooms, salt, pepper, turmeric, cayenne, coriander and cumin and cook for another 5 to 6 minutes, stirring occasionally, until mushrooms have released their juices, and juices have reduced by about half.
Pour in boiled water until the pot is about 3/4 full and bring to a boil again. Once boiling, reduce heat and let simmer uncovered for about 10 to 12 minutes. Stir soup occasionally.
Add in chopped parsley and cilantro and julienned carrots. Cook for a final 3-5 minutes.
Taste soup, adjust salt according to taste, and serve immediately.
Serve as is, or with a dollop of full fat sour cream – sour cream will help quench some of the heat from the cayenne pepper.
This recipe is dedicated to my sweet nephew whose first question when I launched this blog was, "where's the mushroom soup?!" Well, here it is, and it's sophreakin' good!
Ingredients
1 tbsp ghee or butter
2 medium onions, finely diced
10-15 large cremini mushrooms (you could also use button, portabella or portabello), thinly sliced
several pinches of good quality salt (such as Himalayan pink salt or Herbamare

®

)
freshly ground black pepper
1 tbsp turmeric
1 tsp cayenne pepper (use more or less, to taste)
1 tbsp coriander
1 tsp cumin
about 8 cups freshly boiled water
handful of fresh parsley, finely chopped
handful of fresh cilantro, finely chopped
1 large carrot, julienned