Remember the cold pink borscht we talked about this past summer? The heavenly cold elixir that can unstick your thighs from an overheated leather car seat and make a sweltering summer day more bearable? Well in the spirit of ice storms, power outages and -30 something temperatures, I present to you hot vegetable borscht. This hot borscht is cold borscht's winter cousin. He's wrapped up in a thick wool sweater with a scarf around his face because his grandma told him to. He's your saviour when you can't feel your feet and the wind is biting through your winter jacket. This soup is a medley of all the season's greatest flavours, including ruby red beets, amber sweet potatoes and earthy cabbage.
Quick Facts: The phytonutrients are practically busting this soup apart at the seams – beets, sweet potatoes and carrots are all colourfully good for you! Read more about their benefits here and here!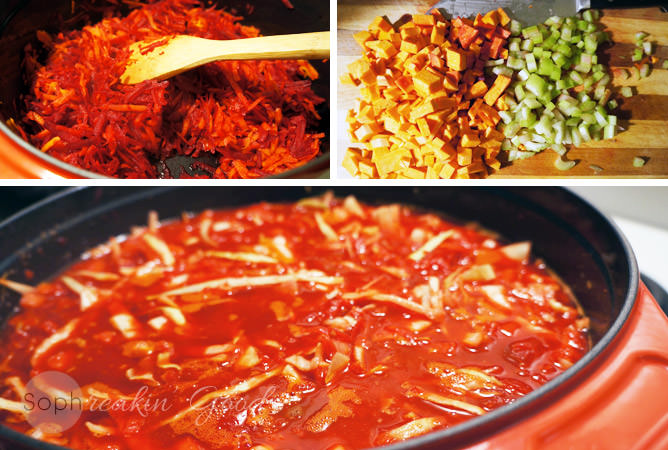 Directions
In a large pot (I used a large enameled 6.5 quart french oven), melt ghee over medium-high heat
Add in grated carrot carrots and beets and a pinch of salt. Stir to coat and sauté for 5-10 minutes, or until carrots and beets have softened and are fragrant. Add in cubed sweet potatoes and celery and sauté for an additional 5-7 minutes.
While the vegetables are sautéing, boil a kettle of water.
Add in the tomatoes to the sautéed vegetables, as well as enough water to fill the pot 3/4 of the way.
Simmer the soup on the stove for 10-15 minutes. Lastly add in sliced cabbage and continue to simmer for up to 1 hour.
Season with salt and pepper and an optional squeeze of lemon juice. The soup should taste earthy and sweet, and a bit sour.
Serve hot with a generous dollop of sour cream.
Warm up this winter with paleo vegetable borscht – piping hot, brimming with nutrients and sophreakin' good!
Ingredients
1-2 tbsp of ghee (or butter)
2-3 medium beets, coarsely grated
2 medium carrots, coarsely grated
1 large sweet potato, finely cubed
2 medium stalks of celery, finely diced
1 can peeled Roma tomatoes (28 oz), blended with an immersion blender
1/2 medium head of cabbage, thinly sliced
freshly boiled water
several pinches of salt
freshly ground black pepper
optional: squeeze of lemon juice