This is a Sunday dish. It's one of those things you put in the oven while you go about other things, and it slowly ramps up your awareness by filling your home with the most delicious aroma. When it's finally ready, the turkey is so tender and the vegetables so perfect you wonder how a dish like this doesn't require you to do more than just put everything in the same pot and let it be.
Quick facts: Of course, you could adapt this dish to use other types of meat or vegetables, but something about this particular combination is an absolute winner. And remember, just like you, I never knew that turkey drumsticks could be cut in half, but apparently all you have to do is ask. The meat counter guy (or girl) is more than willing to run them across the band saw and create manageable pieces. Because let's face it – whole turkey drumsticks don't fit into any dish or vessel in existence.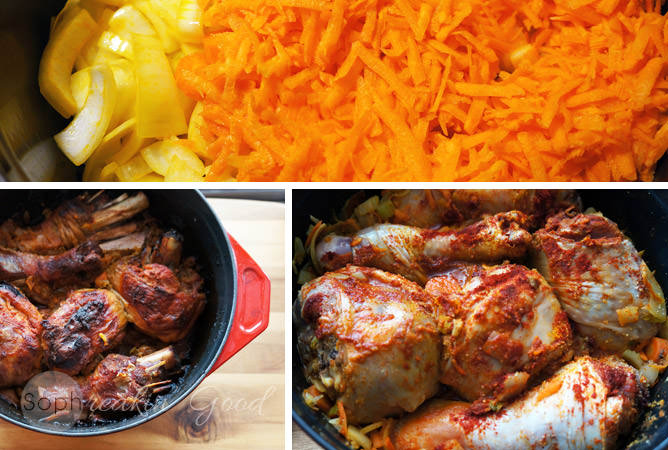 Directions
Preheat oven to 350

° F

.
Place a heavy-bottomed pot on medium-high heat and heat up palm oil (I use an enameled cast iron french oven with a lid. Whatever you use, make sure it is oven safe).
Place carrots, onions and celery into the pot, add several pinches of salt, and cook for 5-6 minutes, until softened.
Liberally salt each piece of turkey and place it into the pot.
Add spices and stir everything with a big wooden spoon.
Add water into the pot, close the lid and place into the oven.
Allow the turkey to cook for 3 – 3.5 hours – check on the turkey after 2 hours to make sure that there is sufficient water to keep the bottom from burning.
Pick a lazy day when you're at home to make this delicious braised turkey – the prep is fairly simple, and the wait is sophreakin' worth it!
Ingredients
4-5 tablespoons of palm oil (you could also use coconut oil, olive oil, or bacon fat)
kosher salt
4 carrots, coarsly grated
4 celery stalks, sliced
4 onions, cut into thick slices
3-4 turkey drumsticks, cut in half (as turkey drumsticks are enormous, I ask the meat counter at the grocery store if they can cut them in half, and most have no problem using the band saw to do this)
freshly ground black pepper
3 tbsp paprika
3 tbsp granulated onion
3 tbsp granulated garlic
1 tbsp turmeric
1 tbsp celery seeds
1 tsp cayenne pepper (adjust according to preference)
1.5 cups of water