Having been born in the former USSR, I have been exposed to Eastern European food my whole life. It doesn't seem strange to me that a culture can base their entire culinary repertoire on potatoes and beets. And cabbage. More specifically, boiled potatoes and beets. And yes, even cabbage. Unfortunately, boiling doesn't make for the greatest flavour profile. Or texture profile, for that matter, especially when you are blessed with a full set of teeth. This is my spin on a traditional Russian salad called vinaigrette. It is served as a "zakuska" or starter at family meals, and is based on – you guessed it – potatoes and beets. And sauerkraut.
This is the salad equivalent of a second generation immigrant: raised by boiled root vegetables, she never forgot her past, but chose to live a more modern life. A sautéed life. And she never developed the starchy potato accent of her parents' generation.
Quick facts: Beets contain an incredible number of antioxidants as well as vitamins and minerals, such as vitamin C, potassium and magnesium. A rich source of manganese, they can help to lower blood pressure. They also contain betaine – an important molecule for cardiovascular health and the prevention of fatty liver deposits.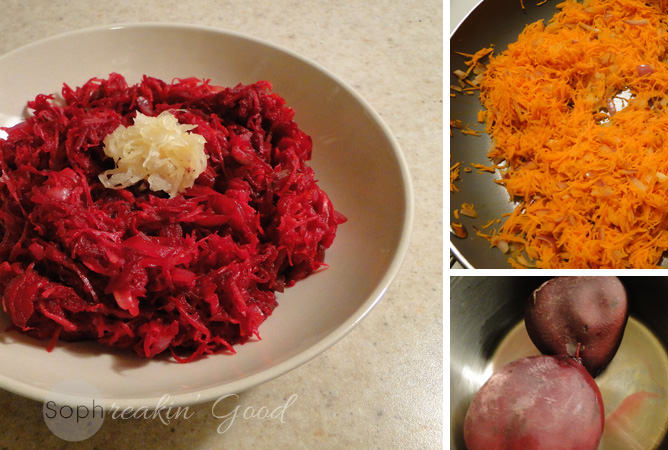 Directions
Cook the beets until tender but not completely soft. You can do this by either boiling them (this is the only part of this recipe that involves boiling, I promise!) or in a pressure cooker.
While the beets are cooking, heat up the ghee in a large frying pan. Add the chopped onion and sauté for a 2-3 minutes, until softened. Add the grated carrots and sauté for an additional 5-6 minutes, until carrots are slightly soft and sweet.
Remove pan from heat and dump carrot and onion mixture into a large mixing bowl. Add chopped pickles and sauerkraut.
Once the beets have finished cooking, run them under cold water until they have cooled enough to handle. Peel beets with a sharp paring knife and grate them on the fine side of a box grater into the bowl.
Lastly, add the olive oil and mix well.
Note: this recipe doesn't call for salt – there should be ample salt from the pickles and the sauerkraut.
This salad is delicious warm or cold. For the best flavour, refrigerate overnight so the flavours marry.
Ingredients
1 tbsp ghee (or butter)
2 large beets
1 medium red onion, finely chopped
2 medium carrots, finely grated
3-4 kosher dill pickles, finely chopped
1 cup sauerkraut (pulled apart with a fork if it is tightly packed in the glass jar)
3 tablespoons cold pressed extra virgin olive oil