Happy 2013 everyone! May this year be filled with happiness, health, and love! And lots of delicious home cooked meals, of course! Let's get 2013 started with the 20th recipe of Sophreakin' Good! It starts with a bit of a confession: I don't eat shrimp unless coconut is somehow involved. On the rare occasion that I have maki rolls, there may be a shrimp lurking in there somewhere. But I would never dream to touch the cold pink tadpoles dangling off the edge of a martini glass filled with horseradishketchup, thank you very much!
Fortunately, I have discovered that coconut shrimp are simple to make and taste unrealistically better than the deep fried ones sold at seafood joints everywhere. All it takes is a bit of dipping and pan frying. Why triple coconut shrimp, you ask? Because this recipe call for three types of coconut – coconut flour, shredded coconut and coconut oil!
Quick Facts: For this recipe you'll need uncooked shrimp (not the pre-cooked pink kind). Frozen is fine – simply place in a bowl with cold water and let them defrost for about 20 minutes. As for the shredded coconut, make sure that the only ingredient is coconut and that there are no added preservatives.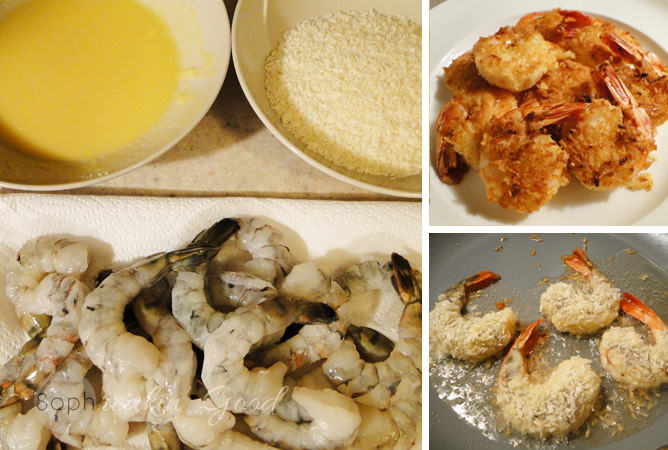 Directions
Melt about 2 tbsp of coconut oil in a pan over medium heat.
In a small bowl, whisk together egg, coconut flour, water and salt until the mixture has formed a thick, batter-like consistency. Place the shredded coconut in another small bowl.
Holding a shrimp by the tail, dip it in the coconut flour batter and then immediately into the shredded coconut. Place into the oil and cook for about 1-2 minutes, or until the tail goes from grey to bright orangey-pink, and the bottom edges turn golden brown. Using tongs, flip the shrimp by the tail and cook on the other side for another minute or two.
Add extra coconut oil into the pan as you go, as the shrimp will absorb some of the oil.
Once cooked, remove the shrimp and place onto a plate.
Serve immediately.
Ridiculously simple and so much better than the deep-fried version, coconut shrimp are sophreakin' good!
Ingredients
20-30 uncooked shrimp – tail on, de-shelled and de-veined, thawed and patted dry with a paper towel
1 egg
2 tbsp coconut flour
2-3 tbsp water
Pinch of good quality salt (such as Himalayan pink salt)
1 cup unsweetened shredded coconut
4-6 tbsp extra virgin cold-pressed coconut oil, for frying