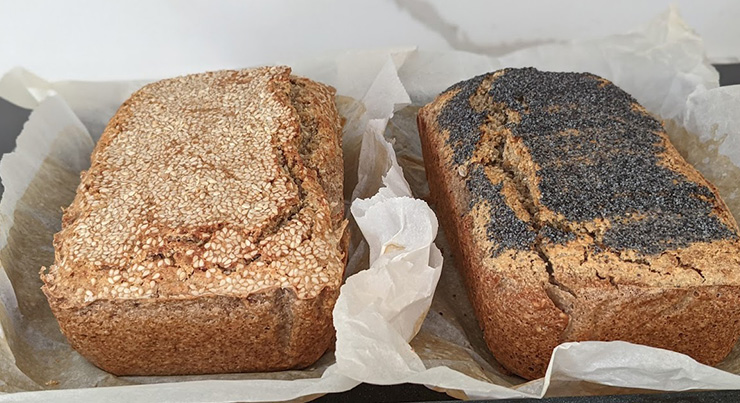 Fermented Buckwheat Bread
With a total of about 10-15 minutes of hands on time, the majority of this recipe is simply patience for soaking and fermentation. This bread tastes like sourdough but is entirely grain free and gluten free, and is basically made with 1 main ingredient!
Ingredients
500

grams

raw buckwheat groats

750

millilitres

filtered water

1

tsp

salt

1

tsp

honey or maple syrup

optional add-ins such as sesame seeds, poppy seeds, hemp seeds, herbs, raisins, etc.
Instructions
Add 500 grams of raw buckwheat groats to a glass or ceramic bowl. Cover with 600ml of filtered water. Stir and cover with a plate or tea towel and leave on the countertop for 12-24 hours. I use this brand of organic buckwheat that comes in 500g packages: https://amzn.to/3r1F0ds

After 12-24 hours, the groats will have absorbed all the water. They will be slimy (this is good! Do NOT rinse!) and may or may not have sprouted (don't worry if they have or haven't – the bread will turn out great either way). Into the same bowl, add 150ml filtered water, a teaspoon of salt and a teaspoon of honey or maple syrup. Use an immersion blender to blend everything together. You may also dump everything into a food processor, then return to the same bowl. Cover, and let sit for another 24 hours on the counter.

After 24 hours, the batter will be frothing, foaming and bubbling. Some spots more than others. It will smell a bit (or a lot) funky. This is good news! Now is the time to add in any flavourings you'd like. You can keep it plain (delicious), or you can try adding hemp seeds, sesame seeds, chia seeds or flax. I love making an everything bagel version (poppy seeds, sesame seeds, granulated onion and garlic). You could also try cinnamon raisin or herb and garlic (granulated garlic, dried dill, dried parsley, dried coriander). The possibilities are endless, and there's no need to measure your add ins – use as much or as little as you want!)

Gently mix in your add-ins, then transfer to a greased and lined loaf pan. Bake at 350°F for anywhere from 1 to 2 hours, until a toothpick inserted into the middle comes out clean (the crust will be done WAY before the inside of the loaf is set - it will look deliciously golden brown after the first 45 minutes, but the inside will still be sticky and wet, so keep baking!) Let cool in the pan, then slice, TOAST, and enjoy!
Video
Frequently asked questions about fermented buckwheat bread:
Most recipes I've seen firmly recommend to rinse the buckwheat after soaking (they all say the water is slimy). I'd like to know why you don't recommend to rinse it?
The water IS slimy but it's all part of the magic of what makes this bread ferment and rise so nicely. Rinsing it after soaking washes away much of the good bacteria needed to ferment the dough. Also, it's one less step! 🙂
Can i use buckwheat flour instead to make this buckwheat bread recipe?
Buckwheat flour will not work in this recipe. The whole seeds (groats) are required in order for the soaking and fermentation to work its magic.
Can this buckwheat bread be frozen?
Absolutely! Simply slice and place in a zip-top freezer bag. When you're ready for a slice of buckwheat bread, simply place in the toaster and enjoy!
Should I leave the bowl on the counter or in the fridge during soaking and fermentation?
Generally speaking the bacteria responsible for fermentation are dormant when they get cold. Therefore, I recommend keeping the bowl on the counter, covered with a plate or a dishtowel. However, depending on the temperature, the fermentation process may take more or less time. For example, during the summer, you may only need to let the mixture ferment for 8-12 hours instead of 24, while in the winter it may take longer.
Is this buckwheat bread recipe vegan?
If you use maple syrup (or date syrup, molasses or sugar) instead of honey, then yes!
Is this buckwheat bread recipe gluten free?
Buckwheat is actually a seed, naturally gluten free and in no way related to wheat. Therefore, this buckwheat bread is great for those with food sensitivities and allergies as it is dairy free, egg free, yeast free, nut free, soy free and grain and gluten free.
Why does the mixture smell funky after fermenting?
For the same reason that brewing beer, making cheese and fermenting pickles and sauerkraut all produced a funky smell- the bacteria are hard at work! This is all part of the process and the finished product, while it has a certain yeast-like sourdough tang, does not smell as funky as the fermenting mixture prior to baking!
Help! After soaking, the buckwheat groats seem to have sprouted? What do I do?
This should in no way affect the recipe, nor the finished product. In fact, seeds that sprout have "switched off" certain anti-nutrients and enzymes in preparation for growth into a plant (they have no idea they haven't been planted and are about to be baked into a bread!) However, this vastly improves the digestibility of the seeds, making this bread gut-friendly. Whether or not the groats sprout after soaking, though, will not affect the final product – continue with blending, fermenting and baking as usual.
The bread is "gummy" inside after baking, what is the problem?
The bread wasn't baked for long enough. Baking time, of course, depends on the material of your loaf pan, the type of oven, etc. However, I find that a loaf takes anywhere from an hour to two hours to bake through. If the entire loaf is gummy, then consider resuming baking. However, if just the very centre is gummy, this can usually be rectified by toasting the bread (sometimes twice)
Why should I use a glass or ceramic bowl for fermentation?
Glass and ceramic are inert and will not interfere with the process of fermentation. Stainless steel has some antibacterial properties which may hinder fermentation, while plastic is not fully inert and should therefore be avoided for this recipe.
There seems to be a layer of something pink on top of the mixture after fermentation, is this bad?
A thin pink layer sometimes appears after fermentation, but this is not harmful. You can either scrape it off or mix it in and proceed as usual. However, if there is anything fuzzy growing on your mixture, then definitely remove this entirely before continuing with the recipe.
What is buckwheat?
Buckwheat is a plant that is related to rhubarb and sorrel, and is often classified as a grain or pseudocereal. It is native to Asia and is grown for its small, triangular seeds, which are used to make flour, noodles, and other food products.Buckwheat has a distinct, nutty flavor and is often used in dishes such as soba noodles, kasha (roasted buckwheat), and buckwheat pancakes. Buckwheat is high in nutrients, including protein, fiber, and several essential minerals. It is a good source of manganese, magnesium, and phosphorus, and is also high in antioxidants. It is often used as a substitute for wheat in gluten-free recipes, and is considered to be a healthier alternative to wheat in some cases.
Is buckwheat bread AIP compliant?
Buckwheat is a common ingredient in gluten-free breads, and it is considered to be compliant with the autoimmune protocol (AIP) diet. However, it is important to note that the AIP diet is a restrictive diet that eliminates many common food groups, including grains, legumes, and nightshades, in an effort to reduce inflammation and support gut healing.
Is buckwheat bread safe for those with Celiac?
This buckwheat bread is naturally gluten free and therefore appropriate for those with gluten intolerance.