This salad is so huge in the flavour department that it takes a couple of bites before everything can be processed. There's bits of crunchy veggies, a ton of fresh herbs, and a tangy dressing to hold it all together. Of course, this isn't the only way to make a quinoa salad (I'd be lying if I said I make it exactly this way each and every time), but this is definitely a delicious way to make a quinoa salad, and it's a good place to start.
If you don't have the exact veggies on hand, substitute. No celery? Add in some thinly sliced radishes. No parsley? Swap in some cilantro. I've used red quinoa in this salad because I love how nutty it tastes, but white quinoa will work just as well! You get the picture, so on to the recipe!
Quick facts: Contrary to popular belief, quinoa isn't a grain: it's the seed of a plant (similar to chard or spinach). It's a good source of protein and contains a great balance of all eight essential amino acids. It's crunchy, nutty and delicious tossed into this salad while it's still warm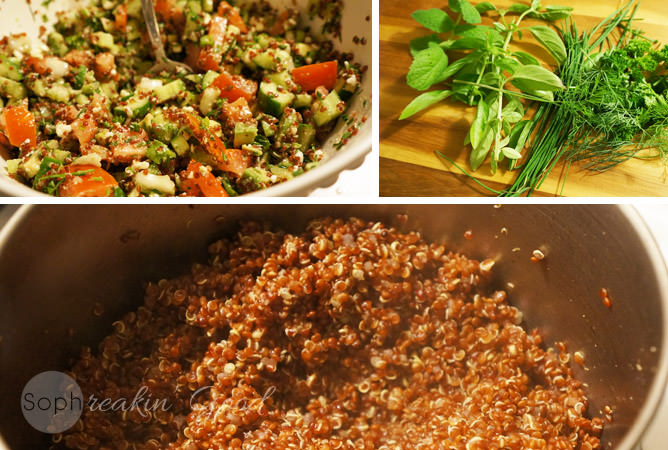 Directions
Place the quinoa in a small pot and cover with about 1/2 an inch of cold water (if you have some homemade vegetable or chicken stock hanging out, feel free to use that instead!). Place on medium high heat and cover with a lid. Once it comes to a boil, reduce the heat a bit, open the lid a crack and continue to simmer, stirring occasionally, until the quinoa starts to open up and look 'curly' (about 10-15 minutes). Once the quinoa tastes tender but still has a bit of chew, add in a little knob of butter or some olive oil and a pinch of salt. Stir well and pour the cooked quinoa out onto a plate to cool slightly.
While the quinoa is cooking, combine the chopped vegetables, herbs and feta in a large bowl.
Whisk the dressing together in a small bowl.
Add the warm quinoa to the chopped vegetables, pour in the dressing, and mix well to combine.
This quinoa salad comes together quickly and is great for a quick lunch or a picnic that's sophreakin' good!
Ingredients
2 cups of quinoa, cooked (see below for method)
1 medium tomato, finely diced
2 small cucumbers, finely diced
1 small pepper (any colour), finely diced
1 stalk of celery, finely sliced
about 1/2 cup of fresh herbs, finely chopped (I used basil, parsley, dill, mint and chives)
1/4 cup feta cheese, crumbled
Dressing:
zest and juice of 1 lime
1 tsp toasted sesame oil
1/4-1/3 cup walnut oil or extra virgin olive oil
pinch of salt and freshly ground black pepper