In my world, dried fruits are better than candy. I never understood fake fruit flavours when I was a kid… I got my hands on a strawberry LipSmacker® once and the smell alone made me queasy. Dried fruits, on the other hand, are sweet, concentrated fruity flavour bombs. These fruit and nut balls taste complex and fancy, but are the poster child of simplicity. Bursting with the amazing flavours of dried fruits and crunchy, toasty nuts, they are a great treat. Even better, they come together in a few minutes and have no added refined sugar! Get your food processors handy, because these guys go fast! Affectionately referred to as shit balls at my house (looks can be deceiving!), they can be adjusted to use any type of dried fruits and nuts imaginable!
Quick facts: Dried fruits contain the concentrated benefits of fresh fruits, including fiber, vitamins and minerals. However, they are also very calorie dense and offer a concentrated dose of natural sugars, so moderation is key. Make sure to buy dried fruits that contain no preservatives – the only ingredient should be the fruit!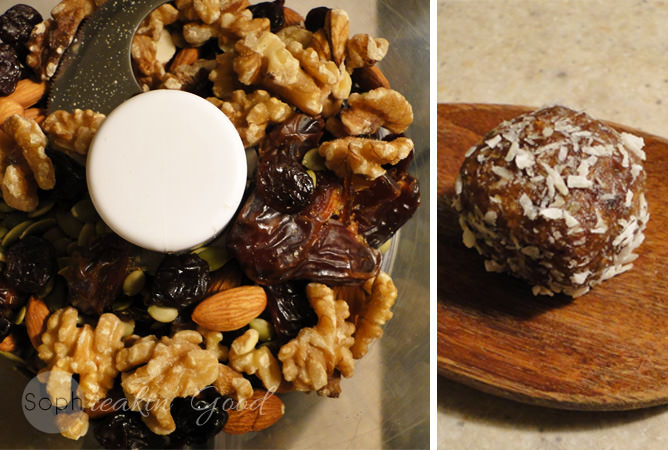 Directions
Place all the ingredients into a food processor.
Blend until everything is well chopped and the mixture begins forming a uniform clump in the bowl of the processor. If this doesn't happen, remove the lid and test the mixture by pressing it between your thumb and fingers – you will be able to tell if enough oils have been released from the nuts and seeds for the mixture to stick together.
Carefully remove the blade. Take small amounts of the mixture and roll between palms to form a ball. Set aside on a plate. Continue this process until the the whole mixture has been rolled into balls.
Fill a small dish with coconut or sesame seeds and place a few balls at a time inside. Shake dish lightly until balls are coated and place back onto the plate.
Cover with plastic wrap and chill for as long as you can tolerate – preferably overnight.
Possibly the easiest snack to make, these little fruit and nut balls offer a quick dose of energy and flavour, making them sophreakin' good!
Ingredients
1 cup of dried fruit such as dates, prunes, figs, dried cherries, dried apricots, etc.
3/4 cup of nuts and/or seeds such as almonds, walnuts, pecans, pine nuts, macadamia nuts, hazelnuts, sunflower seeds, poppy seeds, sesame seeds, pumpkin seeds, etc
1/4 cup unsweetened shredded coconut, plus more for rolling*
1/4 teaspoon of pure vanilla extract
* If you're not a big fan of coconut, you can omit it from the recipe and roll these in sesame seeds instead, or just leave them plain.