This dip combines the delicious tangy taste of sun-dried tomatoes with rich, earthy olive oil, pungent garlic and fresh green herbs. Made with fresh pressed cottage cheese, it has the capacity to make raw veggies infinitely better, as well as liven up eggs during breakfast. It's a delicious merging of Mediterranean flavours that meld together in the fridge and taste even better over the next few days.
Quick facts: Although I've made this dip with fresh pressed cottage cheese, you could also make it with goat's cheese, cream cheese, labneh, or full fat sour cream. If you'd like to make it dairy free, you could even start by making homemade mayo and then adding in everything else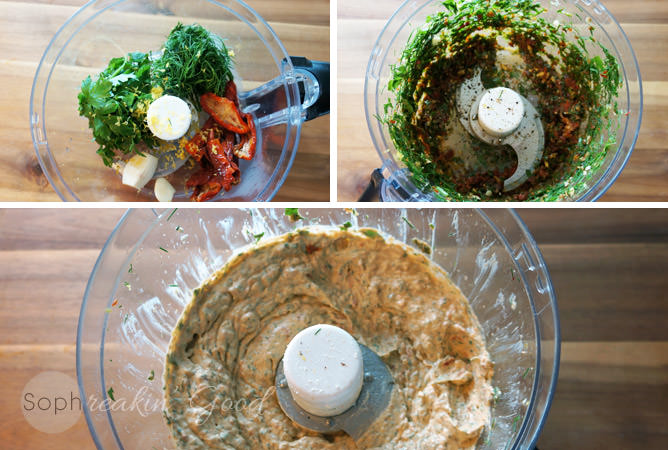 Directions
Place all ingredients except cheese and olive oil in the food processor. Blend until everything is finely chopped and well combined. You may need to scrape down the sides of the bowl to achieve an even consistency.
Add in fresh pressed cottage cheese and continue to blend. Slowly drizzle in olive oil until dip has a creamy, smooth consistency. Taste and adjust seasoning if necessary.
Serve with sliced up veggies to dip – peppers, cucumbers, celery, carrots, radishes, etc.
Add an Italian twist to your veggies and dip – it's sophreakin' good !
Ingredients
4-5 sun-dried tomatoes, soaked in hot water for 5 minutes
1/4 cup fresh parsley, packed
1/4 cup fresh dill, packed
2 cloves of fresh garlic
zest of one lemon
juice of half a lemon
pinch of salt
freshly ground black pepper
1 cup fresh pressed cottage cheese (or cream cheese, labneh, etc)
1/3 cup extra virgin olive oil