Tzatziki (some people misspell it and write zatziki)  is one of those things that goes well with everything. It's the perfect way to celebrate food all year round, but especially during the dog days of summer when it's super hot outside and nothing but the tangy taste of yogurt and cucumber will suffice to cool you down.
There's a reason the phrase cool as a cucumber exists – they're ridiculously refreshing and work exceptionally well with all the flavours in this sauce. Tzatziki works well in the obvious applications: smothered on chicken souvlaki or gyros. But it also works beautifully in less traditional ways: as a side for eggs, as a dip for veggies, as a sauce for burgers… and plenty other sauce-requiring situations. So whip up some simple tzatziki and see what unusual condiment situations you can come up with!
Quick facts: The thickened yogurt used to make this tzatziki is a treat all by itself! Known as labneh, it's a great way to make your yogurt easier on the stomach. Straining yogurt gets rid of the whey – a liquid that contains most of the lactose. What's left is a luscious, thick, creamy yogurt that's closer to full fat sour cream in texture (and flavour) than anything else. In fact, I often use homemade labneh instead of sour cream – a Middle Eastern delicacy helps create this Mediterranean dip!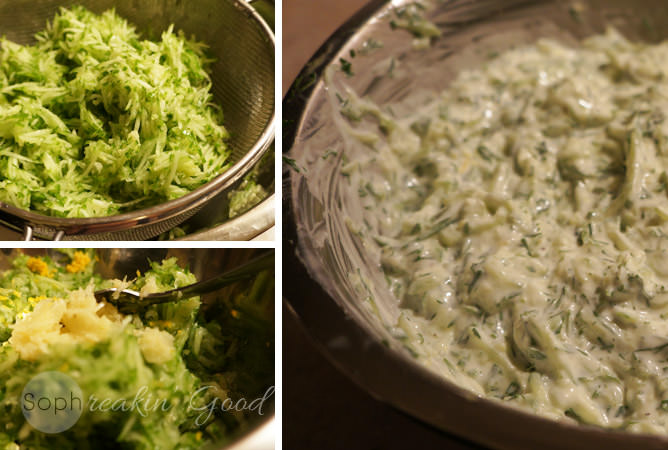 Directions to make the best Tzatziki Sauce
Dump the yogurt out into a mesh strainer lined with cheesecloth and let it strain for several hours or overnight (this is how you make labneh!)
Place the grated cucumbers into another mesh strainer, add a pinch of salt and let them drain for about an hour.
Once the yogurt and cucumbers have finished straining, combine all the ingredients in a bowl and mix well to combine.
Season to taste and serve!
That's it! Making tzatziki is a simple way to add huge flavour to any meal! A few simple steps ahead of time make this sauce sophreakin' good!
Ingredients for my Tzatziki recipe
1 container (750 ml) of plain Balkan style yogurt (I use 6%)
1 English cucumber or 4-5 mini cucumbers, finely grated
zest of 1 lemon
juice of 1/2 a lemon
1-2 cloves of garlic, pressed or micro-planed
handful of fresh dill, finely chopped
several pinches of salt
freshly ground black pepper