Latkes are traditionally eaten during Channukah, the Jewish festival of lights. Traditional latkes are made with potatoes – delicious? Yes. But also super starchy. These zucchini latkes are ringing alarm bells in the flavour department, yet manage to be free of flour and starchy potatoes. Instead, they are a crispy, complex mess of zucchini strings fried to perfection. Plus, they're green. Why not put a bright, healthy spin on traditional Channukah fare this year?
Quick facts: Zucchini has a very high water content and is generally low in calories. However, it is a good source of potassium, manganese and vitamin A.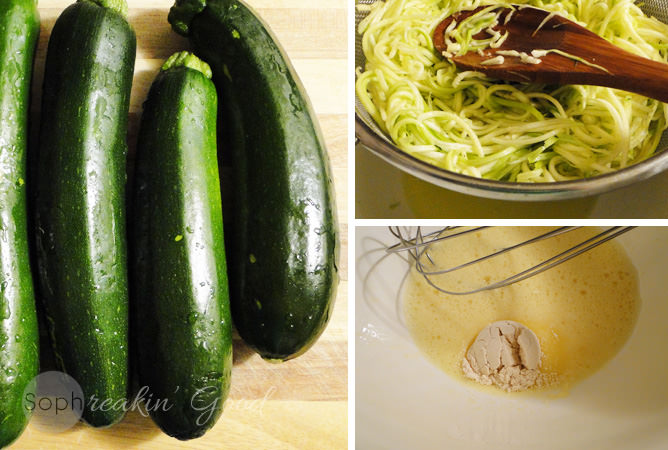 Directions
Wash and peel zucchinis. Use a mandoline set to julienne, a julienne peeler, or a box grater to cut zucchinis into strips.
Add several pinches of salt to zucchini, mix well and place into a strainer over a bowl. Let drain for 15 to 30 minutes.
In a separate bowl, whisk together eggs, coconut flour, dill, pepper and garlic. Let sit for about 10 minutes.
Once the zucchini has drained about a quarter cup of liquid, place zucchini into the bowl with egg mixture and mix well.
Heat up butter in a large skillet over medium heat.
Place mixture into pan in heaping spoonfuls and flatten with the back of spoon.
Fry until crispy, about 4-5 minutes. Flip latkes and continue frying for another 4-5 minutes on the other side.
Serve immediately with full fat sour cream or apple sauce.
Happy Channukah!
Explore the lighter, airier and healthier side of tradition with zucchini latkes – they're sophreakin' good!
Ingredients
4 medium zucchinis
several pinches of good quality salt (such as Himalayan pink salt or Herbamare

®

)
2 eggs
2 tbsp coconut flour
1 tbsp dried dill
freshly ground black pepper
1 tbsp granulated garlic
butter for frying