Picture this: it's a ridiculously hot day. You're hungry, but not as hungry as you would be if it wasn't so hot outside. Still, you're looking for something to eat. Anything at or above room temperature and you'll melt, you're sure of it. You're looking for something cold and refreshing. A bit filling but not so heavy that you'll stay stuck to your chair. The answer is so simple it's staring you in the face: cold pink borscht.
This cold borscht is little more than broth made with beets. It's stupefyingly simple. But it's what you add into it that really makes it. If you're planning on making this soup and eating it plain, I would rather you not make it at all. It just tastes like beets. But stir in the exact combination of fixins and you'll wonder why it never crossed your mind to beet the heat with ruby red soup!
Quick facts: Bursting with phytonutrients, this soup is loaded with vitamins and minerals that would otherwise be lost if you were to just boil the beets. The additional ingredients seem strange, I get it. Hardboiled eggs? Cucumbers? PICKLES? Keep calm and borscht on.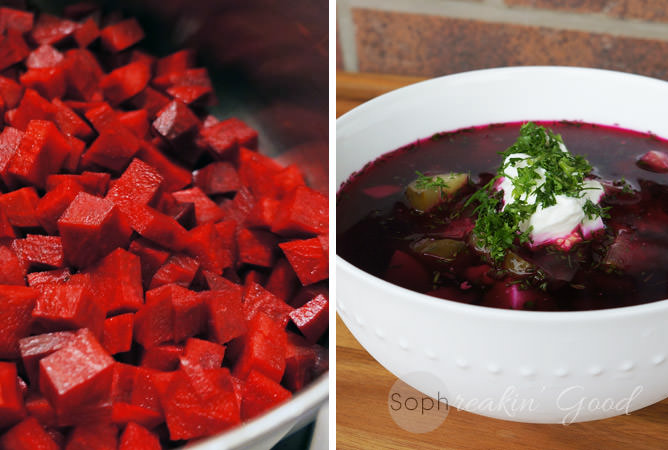 Directions
Place chopped beets (and greens, if you have them) into a medium sized pot and fill to the top with cold water.
Turn the heat on high, cover with a lid and bring to a boil. Once the soup comes to a boil, turn down the heat, remove the lid and simmer on medium for an additional 10-15 minutes or until the beet pieces are tender.
Once tender, remove the pot from the heat and add vinegar, salt and maple syrup (to bring out the natural sweetness of the beets).
Allow to cool completely and place into the fridge for several hours or overnight. To speed up the cooling process, plug the sink, fill with a shallow layer of ice cold water and place the pot into the sink.
Once the soup is cold, taste and adjust for seasoning. It should taste slightly sour and slightly sweet.
Ladle the soup into a bowl and add the egg, cucumber, pickle, herbs and a generous dollop of sour cream or yogurt. Stir well to combine and prepare to have your mind blown.
This soup is Eastern Europe's version of lemonade on a hot day – not only is its deliciously healthy, it's also bright pink! On a hot day, cold borscht is sophreakin' good!
Ingredients
4-5 medium sized beets, peeled and finely cubed (if you happen to pick up young beets with the greens, finely slice up the greens and add them to the broth!)
cold water to fill the pot
several pinches of salt
2-3 tbsp white vinegar
1-2 tsp maple syrup
Add-ins
hardboiled egg, chopped
fresh cucumber, finely chopped
kosher pickle, finely chopped
green onion, finely sliced
fresh parsley and dill, finely chopped
sour cream or plain Balkan/Greek yogurt