I don't like eating bananas that aren't ripe. If there's even a bit of green left on them, it feels like I'm eating tree bark. There's pretty much a 12 hour period when a banana is ripe enough to eat, but not so ripe that it's unbearably sweet. And if you miss that golden window of opportunity, you'll enter the realm of banana bread. Once those bananas are too far gone to eat, let them have a time out and think about what they've done. That's right – wait until they're almost entirely covered in brown spots and super-duper sweet. And then make banana bread- this particular grain-free banana bread. Most grain-free banana bread recipes result in a brick o' banana bread – delicious yet dense. But this banana bread is the fluffiest, yummiest banana bread out there. And there are no sweeteners of any kind added – just good ol' overripe bananas! Quick facts: This banana bread will work well with just about any add-ins; some classic combinations include raisins, walnuts and chocolate chunks. Also, to keep ripening bananas from turning the rest of your fruit bowl to mush, place them somewhere far from other ripening fruits. Alternatively, if you've got something (avocado, pear, kiwi, etc) that just doesn't seem to want to ripen, put it in a paper bag with a ripe banana for the day – it'll be ripe in no time. And finally, if your fruit bowl overfloweth with ripe bananas but there's no time to make banana bread; peel 'em, stick 'em in a ziploc bag and freeze 'em for later banana bread-making purposes!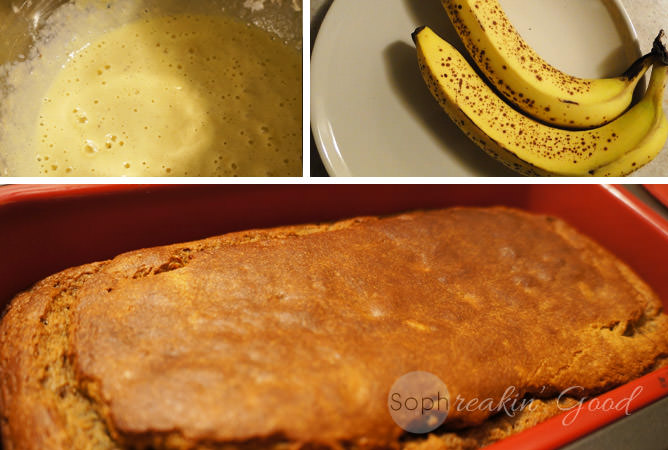 Directions
Preheat oven to 350

° F

.
In a large bowl, combine bananas, egg yolks, almond butter, vanilla and lemon juice- this can be done using an electric hand mixer, an immersion blender, or in an upright blender (then poured into a bowl).
In a separate bowl, whisk egg whites until soft peaks form – an electric mixer or stand mixer comes in handy for this step.
Add coconut flour, baking soda, cinnamon and salt in the banana mixture – use a whisk to combine.
Add in the egg whites and mix until everything is just combined.
Finally, add in your add-ins! I used toasted sunflower seeds and chocolate chunks.
Pour the batter into a greased or silicone loaf pan and bake for 30-40 minutes, or until a toothpick inserted into the loaf comes out clean.
This grain-free banana bread will change how you think about those over ripe bananas sitting in your fruit bowl. It's simple to make, and sophreakin' good!
Ingredients
3 medium (very ripe) bananas, mashed
3 eggs, separated
3/4 cup almond butter (or other nut butter)
1 tsp vanilla
2 tsp fresh lemon juice (crucial for the baking soda to act as a leavening agent, so don't skip the lemon juice!)
1/4 cup coconut flour
1 tsp baking soda
1 tsp cinnamon
pinch of salt
Add-ins
toasted sunflower seeds
toasted walnuts, chopped
toasted slivered almonds
poppy seeds
dried cherries, chopped
raisins
dark chocolate chunks
use your imagination – the sky's the limit!