This dish was the result of a trip to a French restaurant on the edge of Chinatown. Ever since our trip to Paris, where the best meal we had was in an Italian restaurant, I've always said that the best French food is Italian food. Don't get me wrong – there's absolutely nothing wrong with duck confit and macarons. But something magical happens when Italian food meets Paris. It transforms from a doughy, gluten-ous pile of pizza, pasta and bread into beautiful combinations of vegetables, seafood and meat.
That's exactly what happened here in Toronto when a group of friends went to this French restaurant. I ordered the most Italian thing on the menu and was absolutely blown away. Foie de veau, or veal liver, in a balsamic reduction, with tangy sun-dried tomatoes and salty olives. The only thing on my mind was getting home and re-creating the recipe.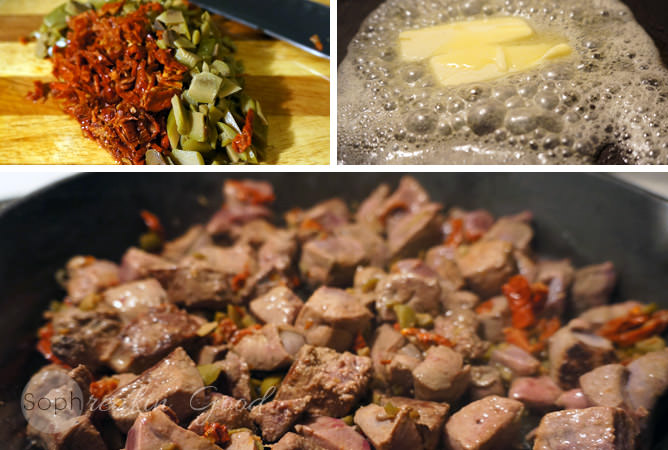 Directions
Melt the butter over medium heat in a large skillet (preferably cast-iron)
Add in the liver pieces and stir with a wooden spoon to sear them on all sides.
Cook the liver for about 4-5 minutes, or until a golden-brown crust forms.
Add in the chopped tomatoes and olives and stir to combine.
Pour in balsamic vinegar, add salt and pepper and cook for an additional 5-7 minutes until the vinegar and butter have reduced into a thick sauce and the liver is cooked through but still tender.
Remove from the heat and serve.
It's surprisingly simple and packs a serious punch of flavour – this is our go-to meal when we're short on time, and it's sophreakin' good!
Ingredients
3-4 tbsp butter
1 pound of veal liver, membranes removed, cut into 1/2 inch cubes
5-6 sun-dried tomatoes, soaked in hot water for a few minutes, chopped
1/4 cup of green olives, chopped
3-4 tbsp balsamic vinegar
pinch of salt
freshly ground black pepper