I could tell you that shakshuka is an Israeli dish of eggs poached in tomato sauce. But that wouldn't even begin to describe the flavours in this deceptively simple dish. It is in every way, shape and form far more than simply the sum of its parts. It is rich, slightly sweet, slightly spicy, smoky tomato sauce. It is eggs poached so that the yolks run out like liquid gold. It is caramelized mushroom and onions and garlic. It is the best combination of flavours your breakfast has ever had the pleasure of knowing. And it is incredibly simple to make. Whether you like it mild or spicy, this shakshuka is delicious any time of day.
Quick facts: Cayenne pepper contains capsaicin which helps stimulate blood flow and the release of endorphins. Eggs are an incredible source of protein and high in vitamins such as B12.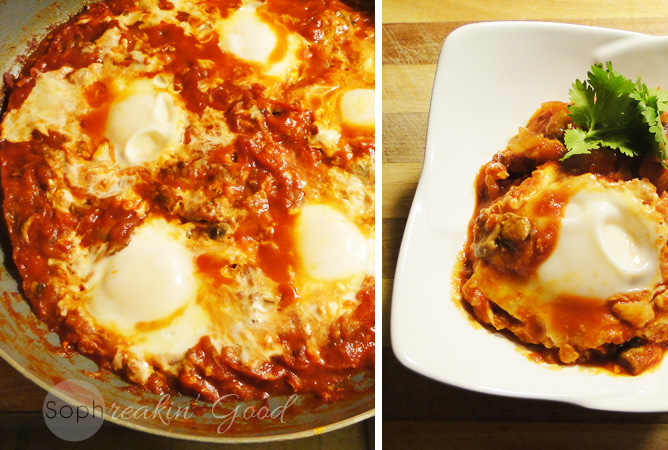 Directions
Heat ghee in a medium-sized frying pan or sauce pan* over medium heat. Add onion, garlic, mushrooms and a pinch of salt. Cook, stirring occasionally, until the onions and mushrooms are caramelized and the garlic is fragrant, about 7 minutes.
Add chopped tomatoes and cover with a tightly fitting lid – cook until the tomatoes have released most of their liquid and are soft, about 4 more minutes.
Remove the lid and stir in tomato paste, maple syrup and spices.
Cook for an additional 3-4 minutes, or until some of the tomato liquid has evaporated – the sauce should have a thick, chunky consistency.
Taste the sauce and adjust seasoning, adding more salt or cayenne pepper as necessary.
Using a wooden spoon, made a few small wells in the tomato sauce and crack an egg into each well.
Cover the pan with lid and reduce to low heat.
Cook eggs for about 4 minutes or until the whites have set but the yolks are still liquid – the easiest way to check is to give the pan a wiggle: if the yolks jiggle but the whites stay put, they're perfect! Keep in mind the eggs continue cooking if taken off the heat but left in the tomato sauce.
Remove from heat and serve immediately.
* Ensure pan has a lid
Ingredients
1 tbsp ghee (or butter)
1 large sweet onion, finely chopped
2 cloves garlic, pressed or microplaned
7-8 cremini mushrooms, washed and finely chopped
2-3 large tomatoes, chopped
1 small can tomato paste
1 tbsp maple syrup
1 tbsp paprika
1 tsp ground cayenne pepper (feel free to add more or less, according to taste)
1 tsp ground coriander
several pinches of good quality salt (such as Himalayan pink salt or Herbamare

®

)
freshly ground black pepper
4-5 large eggs