Whenever something tastes familiar, people say it tastes like chicken. As soon as that happens, you know they haven't tried all the wonderful possibilities that exist for adding flavour to chicken. This recipe adds a Mediterranean twist to chicken with lemon, garlic, oregano and olive oil.
Quick facts: This recipe is a lifesaver when you need a quick meal. Simply keep a bowl of marinated chicken in the fridge and grill a few pieces at a time, or grill up the whole bunch and re-heat for future meals. Cooked chicken souvlaki is good for 2-3 days when stored in an air-tight container in the fridge. And remember, the more garlic, the better!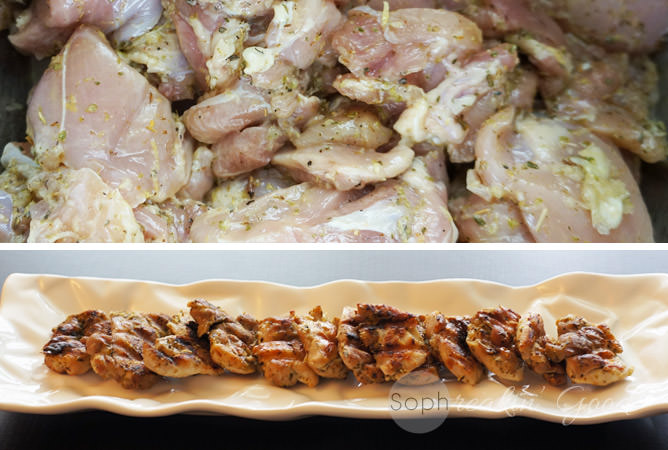 Directions
Place all the ingredients in a bowl and stir to ensure that everything is combined.
Cover the bowl with plastic wrap and refrigerate for several hours or overnight.
These can be cooked on the barbeque or on a countertop grill (or Panini press).
For the barbeque, soak wooden skewers in water for an hour – place 3-4 chunks of marinated chicken on each skewer and grill until golden and crispy and the juices run clear. Alternately, keep the chicken thighs whole prior to marinating and grill whole.
For the countertop grill (I used a mini George Foreman), simply heat up the grill and grill away until the pieces are golden brown and crispy and juices run clear.
Enjoy with a Greek salad and tzatziki sauce!
This chicken souvlaki tastes great cold the next day, or heated up in a skillet with a little bit of butter. Explore the Greek side of chicken with chicken souvlaki – it's sophreakin' good!
Ingredients
about 1 kg chicken thighs, cut into chunks
zest of a whole lemon
juice of half a lemon
1 tbsp oregano
several pinches of salt
freshly ground black pepper
2-3 garlic cloves, pressed or micro-planed
several 'glugs' of olive oil