Before I even start with this recipe, let's talk pronunciation. This is a recipe about roasted root veggies, but the tahini dipping sauce is crucial. And the spelling of tahini is a lie. Unintentional, I'm sure, but it's a bold faced lie. Although technically it's just sesame seed butter, tahini is so much more. It's a quintessential condiment to go with shawarma, falafel, and so many more Middle Eastern dishes. But it's not pronounced ta-hee-nee. It actually requires the use of a sound that some people make when they're clearing their throat. It's the sound at the end of a long, drawn-out ughhh! When represented with ch, the real pronunciation of tahini becomes tchina. And if you're gonna make it to go with these deliciously roasted beets and sweet potatoes, I better hear some throat-clearing coming from the kitchen!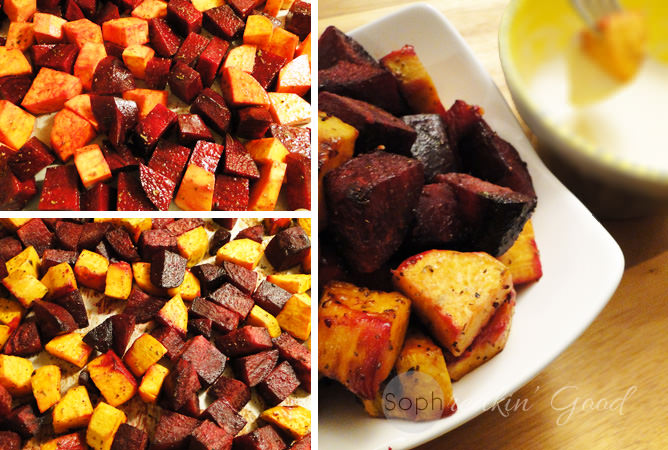 Pretty much any seasoning will do when making vegetables like this – sometime I prefer simple salt and pepper, while other times I go all out and half the spice cupboard ends up roasting away in the oven. Whichever way you choose to do it, they'll taste delicious. And once they become crunchy on the outside, sweet and chewy on the inside and oh-so-tender, they combine beautifully with lemony, nutty tchina.
Quick Facts: We've talked about it before here – beets are incredibly good for you! Their bright red colour means they are full of phytochemicals and vitamins. The same goes for bright orange sweet potatoes!
Directions
Preheat oven to 350

° F

and line a large baking sheet with parchment paper.
In a large bowl, combine cubed beets, sweet potatoes, coconut oil and spices. Mix well to coat.
Spread the vegetables out onto the baking sheet into a single layer.
Roast for 40-50 minutes, spreading them around every 20 minutes or so.
In a small bowl, combine tahini, water, lemon juice and salt. Stir well to combine – it will look like something has gone wrong as the tahini immediately breaks up into little clumps at first. Continue mixing and it will turn into a white, smooth mixture. If the sauce is too thick, add some more lemon juice or water. If it's too thin, mix in some more tahini. It should be about the consistency of maple syrup.
This is by far the easiest way to enjoy sweet and nutritious beets and sweet potatoes – what could be simpler than roasting them? Try a batch of this instead of roasting plain white potatoes and you'll be amazed at how rich and flavourful roasted root vegetables can be! Sweet, satisfying and sophreakin' good!
Ingredients
3-4 beets, washed, peeled and cut into 1 inch cubes
1 large sweet potato, peeled and cut into 1 inch cubes
2 tbsp melted coconut oil (or melted butter)
several pinches of good quality salt (such as Himalayan pink salt or Herbamare

®

)
freshly ground black pepper
Other seasoning suggestions
1 tsp celery seeds
1 tsp ground cumin
1 tsp ground coriander
1 tsp paprika
1 tsp turmeric
Tahini dipping sauce:
7-8 tbsp tahini (sesame seed butter)
5-6 tbsp water
squeeze of lemon juice
pinch of good quality salt (such as Himalayan pink salt)