Paleo Plantain Falafel
So I was mulling over the fact that I miss falafel – despite being made with wheat flour and chickpeas, those little green patties are delicious! So that got me to thinking what I could use instead to create a flavourful approximation of the original. So I decided to turn to the big green flavourless cousin of the banana and the result is a truly spectacular emerald patty that rivals the original!
Made with goodies of all kinds, including garlic, coriander (fresh and ground), and extra virgin olive oil, this falafel makes a great lunch or light dinner.
Quick facts: there really is no easy way to peel a plantain – it takes a little bit of elbow grease (and by that I mean scoring the skin with a knife and using your fingers to peel it off). The most important part is that your plantain is green; they start to taste more like a banana the riper they are. At half the total carbohydrates of chickpeas, plantains manage to deliver much more vitamin A and vitamin C than the typical falafel beans.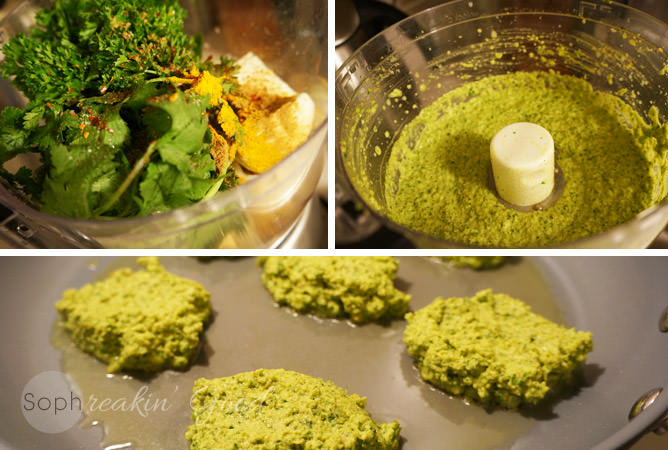 Ingredients
1 green plantain, peeled and cut into chunks
1 small onion, peeled and cut into large pieces
3 garlic cloves, peeled
1 large handful of fresh cilantro
1 large handful of fresh parsley
juice of half a lemon
1 tsp of ground cumin
1 tsp of ground coriander
1 tsp turmeric
several pinches of salt
freshly ground pepper to taste
pinch of red pepper flakes (or cayenne)
3 tbsp coconut flour
1 egg
extra virgin olive oil (up to 1/4 cup)
ghee or butter (for frying)
Directions
Place all ingredients except olive oil and ghee in the food processor.
Pulse until all the ingredients come together – you may need to open the lid and scrape down the sides a few times.
Slowly drizzle in enough olive oil to make a thick green paste.
Heat up ghee in a skillet over medium-high heat.
Use a spoon to put dollops of the batter into the frying pan.
Once bubbling around the edges, flip with a spatula and smush lightly. Continue frying until the patties are golden brown on either side.
Serve with tahini, salad and whatever else you like!
Upgraded paleo plantain falafel – it's bright green and sophreakin' good!
What did you think about this recipe?