Indian food and I did not always get along. Not so long ago, the thought of chicken vindaloo made me nervous. I didn't like pungent spices or spicy food. So I stayed woefully ignorant. But then, I began using spices in my own cooking. Coriander and cumin became my friends. I began slowly but steadily incorporating heat into my food – first crushed red pepper flakes, then cayenne in bigger and bigger quantities. And then, one day, it was Christmas eve, and as Jewish tradition dictates, we went out with some friends for dinner and a movie. And dinner happened to be Indian food.
I fell in love – big time. All of it was delicious, but from that moment on, butter chicken captured a special place in my heart. It's like a rich, dreamy, creamy thick soup with tender pieces of chicken. And because I don't eat it with rice, I eat my butter chicken with a spoon: it's so much better that way.
Quick facts: Normally, butter chicken is made with heavy cream. I only had 30% sour cream on hand (oh, the horror!) but heavy cream or half and half would work beautifully in this recipe as well. Just remember to always check the ingredients! Cream should contain only cream, and half and half should contain cream and milk. Anything else (gums, thickeners, preservatives) should be a red flag! Finally, this recipe can be a messy one because of the tomato sauce bubbling away on the stove – I highly recommend investing in a splatter screen: a dollar store find that fits like a lid but is made from mesh. It allows steam to escape (and therefore liquids to reduce) while preventing splatters. It's great for cooking sauces and searing steaks!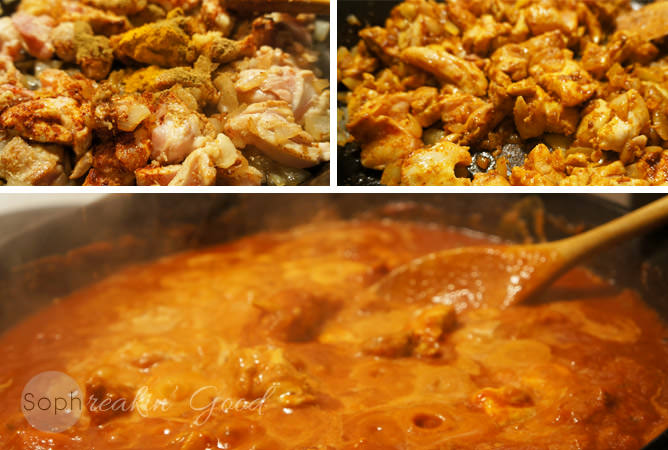 Directions
Melt ghee in a large skillet over medium heat. Add in onions, garlic and spices and cook until fragrant and tender (about 5-7 minutes).
Add in chicken and continue cooking until chicken is seared all over, and about 1/2 way cooked.
Pour in tomatoes and cover skillet with a splatter screen (if you don't have a splatter screen, use a lid but keep it slightly open – the idea is let some of the tomato liquid evaporate).
Let simmer for 15-20 minutes. Once the tomato sauce has thickened and the chicken is fully cooked (you can check this by taking out a piece and cutting it open), stir in sour cream and taste for seasoning.
Serve in bowls and enjoy!
Butter chicken that tastes better than the Indian buffet version is sophreakin' good!
Ingredients
2 tbsp ghee, coconut oil or butter for frying
1 large sweet onion, finely diced
2 cloves of garlic, pressed or micro-planed
1/2 tsp cayenne or ground chili pepper (add in less or more, depending on how spicy you like it)
1/2 tbsp paprika
2 tsp ground cumin
2 tsp ground coriander
1 tsp turmeric
several pinches of salt
freshly ground black pepper
1 kg of chicken thighs, cut into chunks
1 can peeled Roma tomatoes (28 oz)
1/4 cup full fat sour cream (or cream)