Some orange cake recipes call for a squirt of orange juice in the ingredients and think it's good enough. Others get their orange claim to fame by including a bit of orange zest in the batter. All of those recipes are fakes – imposters, if you will. This orange cake uses the whole orange! It's unbelievably moist and so fragrant. And it doesn't hurt that it's slathered with a generous layer of dark chocolate hazelnutty goodness. I originally came upon this recipe here, and have adjusted it slightly for this cake. There's just something about the combination of orange and chocolate that makes everything ok…
Quick facts: Hazelnuts are rich in vitamin E and a good source of copper and manganese. Dark chocolate is rich in polyphenols and flavanols, which are anti-inflammatory and have antioxidant properties. And all this smothering a protein-rich cake made with almond flour!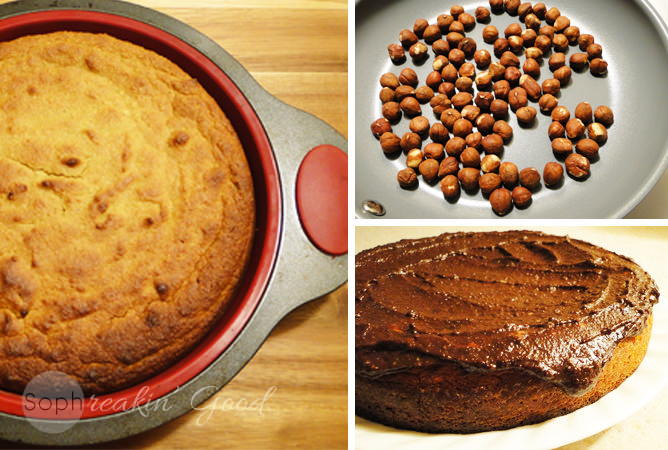 Directions
Preheat oven to 375

° F

.
Place oranges in a saucepan and cover with water. Boil oranges for 1-2 hours or until extremely soft.
Once boiled, place whole oranges (with peel) in food processor and puree.
Add eggs, honey, almond flour, salt and baking soda and blend until completely smooth.
Pour batter into a silicone (or greased) round cake pan. Bake for 30-40 minutes, or until a toothpick comes out clean.
While cake is baking, toast hazelnuts in a dry skillet.
Place toasted hazelnuts onto a sheet of paper towel and cover with a second sheet of paper towel. Rub the hazelnuts until most of the skins flake off.
Transfer (mostly) peeled hazelnuts to the (washed) food processor bowl. Add coconut oil, cocoa powder and maple syrup. Blend until a thick paste forms. Add in water one tbsp at a time, until the mixture reaches a frosting-like consistency.
Once cake has cooled, flip out onto a serving plate. Spread frosting evenly over top of cake.
Refrigerate for as long as tolerable (the flavour of this cake really blooms the next day, so feel free to make it a day ahead and refrigerate overnight).
This cake is rich, moist and not too sweet. It combines bright, citrusy orange with dark chocolate and hazelnut to create a dessert that is sophreakin' good!
Ingredients
For the orange cake:
2 oranges, washed well
4 eggs
1/4 cup honey
2 cups almond flour
small pinch of Himalayan pink salt
1 tsp baking soda
For the chocolate hazelnut creme:
1 cup hazelnuts
1 tbsp coconut oil
3 tbsp pure cocoa powder
3 tbsp pure maple syrup
3-4 tbsp water