When you don't eat grains for long enough, you learn that it's not about replacing bread, pasta, rice or corn with substitutes – it's about finding new and exciting things to eat that make you wonder why you ever considered a bowl of tubular refined carbs with tomato sauce dinner. But rules are made for exceptions, and sometimes I want a sandwich. Yep… sometimes I get a craving that can only be satisfied by smothering a crusty (in a good way) bun with cream cheese and piling on the lox. What then?
Well then, it is about finding a way to create a grain-free bun. These buns are a modified version of this recipe… the resultant buns are light and airy with a crispy crust and can be turned into sandwiches, paninis and anything else your heart desires!
Quick Facts: This recipe can be made in a loaf pan or in ramekins. I've found that the more crust there is, the better – making these in ramekins creates an all around crust, which is the best part of these buns anyways!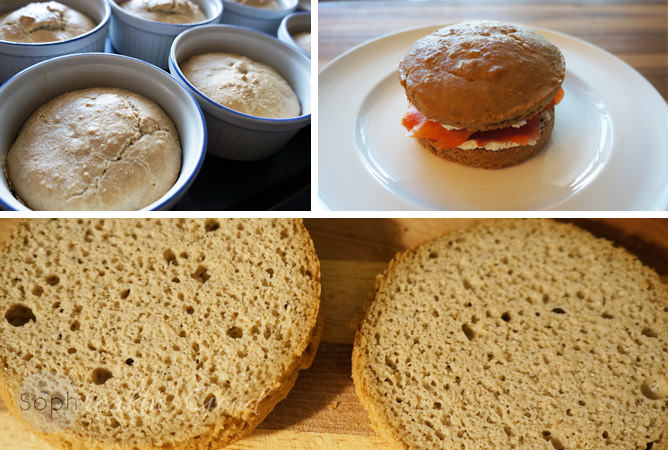 Directions
Preheat oven to 300

° F

.
Grease 6 ramekins* with butter or coconut oil and set aside on a baking sheet.
In a large bowl, using a hand mixer, beat together tahini, egg yolks, vinegar and water.
In another bowl, beat egg whites until foamy and peaks form.
Combine coconut flour, baking soda and salt in a small bowl.
Add dry ingredients to wet ingredients and beat together.
Lastly, add in egg whites and beat until combined.
Pour batter into ramekins – about 3/4 to 1 inch of batter into each (the buns will rise a bit, so judge accordingly). Alternately, pour batter into a greased loaf pan.
Bake for 35 to 45 minutes – the buns are ready when the top is golden brown and crusty, and a toothpick inserted into the middle comes out clean.
Allow to cool for about 30 minutes. To remove from ramekins, run a small knife around the edge of the buns and then tap the ramekin upside down onto a wooden cutting board. (Sometimes, a single controlled 'slam' works better than gentle taps…)
* I don't actually know what size ramekins I have, but they fit just over 1 cup of liquid and measure 4.5 inches in diameter.
For those times when you just need some bread, these grain free buns are the closest thing to sliced bread since… uh… yeah. Regardless, they're light and airy on the inside with a great crust! Chewy and packed with protein, they're sophreakin' good!
Ingredients
1 cup tahini*
4 eggs, separated
2.5 tbsp apple cider vinegar
1/4 cup water
1/4 cup coconut flour
1 tsp baking soda
pinch of good quality salt (such as Himalayan pink salt)
butter or coconut oil for greasing ramekins
* Any other nut or seed butters will work