Remember that time we talked about gelatin? How it's an extremely underused yet valuable source of protein? How humans used to ingest more of it because we ate the whole animal and made broth out of the parts we couldn't eat? That was a lot of questions. But seriously, is this ringing any bells?
Grammatical style aside, gelatin is a phenomenal source of complete protein and crucial in helping to repair damaged gut linings, balance hormones, repair joints and aid in digestion. And what better way of getting a loving dose of gelatin goodness than with dessert, of all things?!
Quick facts: Just like with this chocolate mousse, it is best to use grass fed gelatin. An animal's diet directly affects the quality of it's meat, organs and bones! The best option for grass fed gelatin is the Great Lakes brand.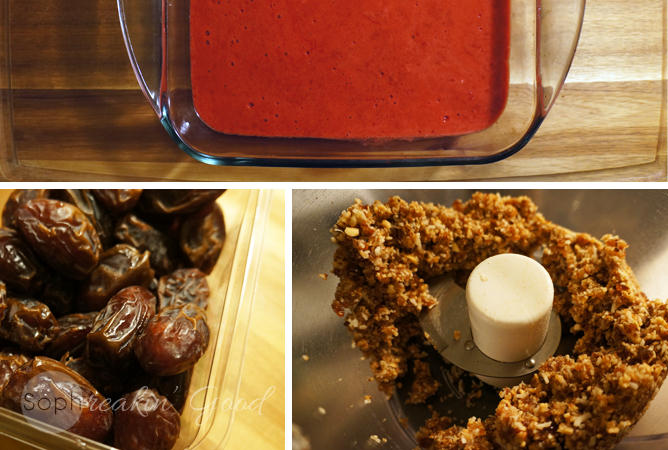 Directions
Pulse dates, coconut and almonds in the food processor until everything is well incorporated and the mixture sticks together into a lump in the bowl of the processor (just like in this recipe for fruit and nut balls).
Dump mixture out into a dish of your choice (a glass baking dish or shallow tray – feel free to line the dish with parchment paper for easier removal).
Press the mixture down to form a uniform layer (you can do this through a piece of plastic wrap or parchment paper to keep your hands clean or if you have long nails, etc).
Place the raspberries into the food processor (no need to wash it) and pulse until they are mostly smooth.
Dissolve gelatin in hot water*. To do this without creating lumps, pour the hot water into a shallow dish and sprinkle gelatin over the water in a single layer. Allow this to sit for about 5 minutes, until the gelatin has bloomed (absorbed water). Stir the mixture and then add this to the food processor bowl and blend until completely smooth.
Pour the raspberry mixture over the crust, cover with plastic wrap and refrigerate to set.
Once chilled, cut into squares and enjoy!
* Gelatin dissolved in hot water has a very, ahem, distinct smell. Fear not, this smell disappears completely and without a trace once blended with the raspberries! Phew!
Pre workout, post workout, for breakfast or as a midnight snack, paleo raspberry squares are sophreakin' good!
Ingredients
For the crust:
10 medjool dates (softened by soaking in hot water for a few minutes, if needed)
1 cup shredded unsweetened coconut
1/2 cup roasted salted almonds*
For the topping:
2 cups fresh or frozen raspberries
1 cup hot water
2 tablespoons of gelatin
* If you only have raw almonds, you can toast them on a dry skillet and add a pinch of salt. The salt is an excellent way to bring out the sweetness of the dates and the tartness of the raspberries.