There is this Russian candy called sliva v shokolade, which translates to "plum in chocolate". There are two (sometimes even three) kinds, depending on what colour the wrapper is. One of them has a hazelnut inside, one of them has an almond. If I'm not mistaken, the third kind has a walnut. Realistically, it's nothing more than a nut inside a prune, covered in chocolate. Why is it that the simplest things are so much better than the sum of their parts?
When I was younger, sliva v shokolade was always my favourite candy, even when I had the choice of plenty of others. There was korovka (meaning "little cow" – a caramel candy), or griliaj (don't know what that means, but it was a nut cluster that could chip your teeth if you weren't careful), strela (meaning "arrow", a confection made with cooked condensed milk, kind of like dulche de leche), or even ptichie moloko (which means "birds milk", and was basically a chocolate covered marshmallow, although that name always grossed me out a little…)
Quick facts: making these is super simple, but these bon-bons are fancy enough to serve to guests. And the only reason I chose to call them plums in dark chocolate instead of prunes in dark chocolate is because prune has a geriatric ring to it that instantly conjures up thoughts of irregularity…
As usual, this is more of a method than an exact recipe, so feel free to adjust quantities as needed.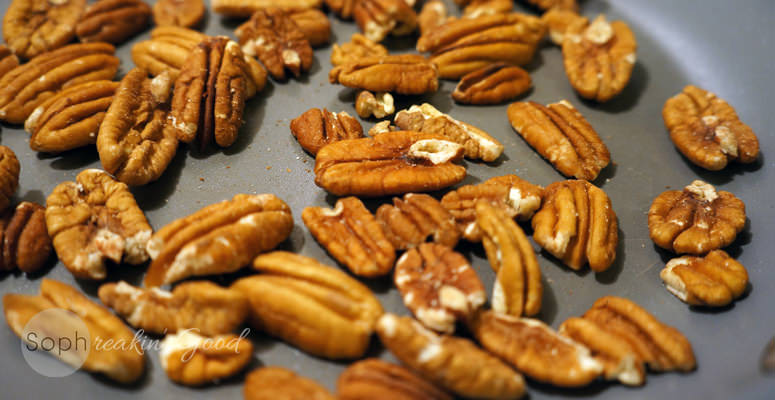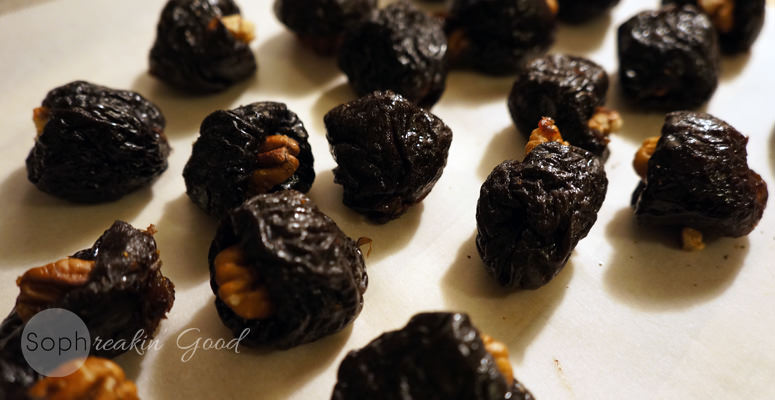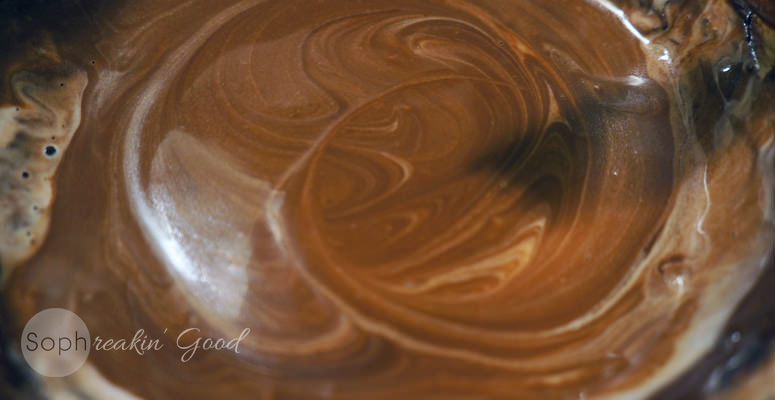 Directions
As the prunes are pitted, each one will already have a hole – find it and stuff one hazelnut (or other nut) into each prune. Set the stuffed prunes aside.
Line a baking sheet with parchment paper.
Fill a saucepan with about an inch of water and set a small bowl on top to form a double boiler.*
Melt chocolate in the bowl of the double boiler, stirring occasionally. Once the chocolate is mostly melted, add in several tablespoons of coconut milk and stir until everything is combined.
Remove the bowl from the double boiler (careful, it will be hot!) and using a fork, carefully dip each stuffed prune in the chocolate. Shake off the excess and place onto the parchment paper.
Once all the prunes have been dipped, place the baking sheet in the fridge and allow the chocolate to harden.
Enjoy!
* You can also melt the chocolate in the microwave – make sure to use short bursts so that the chocolate doesn't burn.
These are stupidly simple to make and taste absolutely divine. Give them a try – they're sophreakin' good!
Ingredients
10 pitted prunes (unsulfured are best)
10 hazelnuts, pecans, almonds or walnut halves, lightly toasted
several squares of dark chocolate (I love Lindt 85% or 90%)
several tablespoons of full fat coconut milk