What do you do when you come home from the grocery store with a 5lb bag of onions and realize that half of them are a little softer than you'd like? You break out the food processor and warm up the oven – it's quiche time! This crustless quiche is little more than an exorbitant amount of onions and some eggs, but the end result is creamy and delicious. I added a twist to this quiche by adding cumin and coriander to the onions while they were cooking, but you could use endless combinations of spices!
Quick facts: While raw onions are often praised for their ability to decrease the 'stickiness' of the blood (platelet aggregation), sautéed onions have a higher antioxidant profile! So throw some butter on the pan and break out the waterproof mascara! Lastly, although I used cumin and coriander, there are plenty of other spice combinations that will work incredibly well. Why not try turmeric and ginger? Or paprika and granulated garlic? What about rosemary and fennel? Or just plain ol' salt and pepper!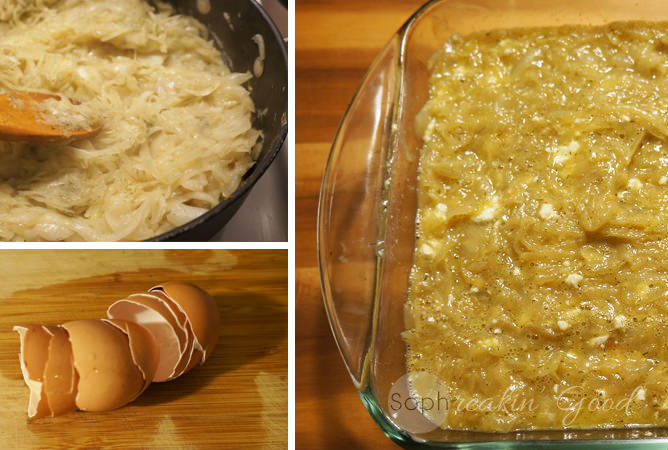 Directions
Preheat oven to 375

° F

.
Grease a baking dish (glass or ceramic) with butter and set aside.
In a large skillet, heat up butter and add onions, salt and spices. Cook onions until they are soft, sweet and slightly translucent.
Transfer cooked onions to baking dish.
Pour eggs over cooked onions and use a large spoon to distribute egg and onions evenly.
Optional: sprinkle crumbled feta over top of the onion and egg mixture.
Bake uncovered for 15-25 minutes, or until the quiche is firm and has a golden crust.
Allow to cool for a few minutes and serve.
This crustless quiche combines sweet, tender onions and eggs baked to perfection. It tastes great hot out of the oven, or reheated in a skillet with some butter the next day! Lots of onions lying around? Make onion quiche – it's sophreakin' good!
Ingredients
6-7 large onions, finely sliced (I used the slicing blade on my food processor)
2-3 tbsp of butter or ghee for sautéing
several pinches of salt
spices you wish to use (cumin, coriander, paprika, turmeric, etc)
4 eggs, lightly beaten
butter for greasing baking dish
1/4 cup feta cheese, crumbled (optional)