Yes, it's possible to make granola without the grains. In fact, once you begin to smell the aroma of this lemon poppy seed granola baking, you'll have trouble remembering what a grain even is. It's all about proportion – slivered almonds are thin enough to pass for the traditional oat flakes that give granola texture. Thinly sliced dried figs provide sweetness and a bit of crunch as well. Fresh lemon zest adds an intoxicating aroma, complemented by the teeny-tiny poppy seeds scattered throughout. The basic method for making granola is the same, whether you have dried figs or raisins on hand – you can substitute pretty much any nuts, seeds and/or dried fruits. Still, there's something about this particular combination that speaks to me.
Quick facts: This granola, while delicious out of the oven, needs to cool down on the baking sheet to allow it to clump up. Shuffle it around too much and you'll have delicious yet small pieces of granola. This stuff is delicious on it's own (obviously), but goes very well added into plain Greek or Balkan style yogurt, or as a topping for fresh pressed cottage cheese!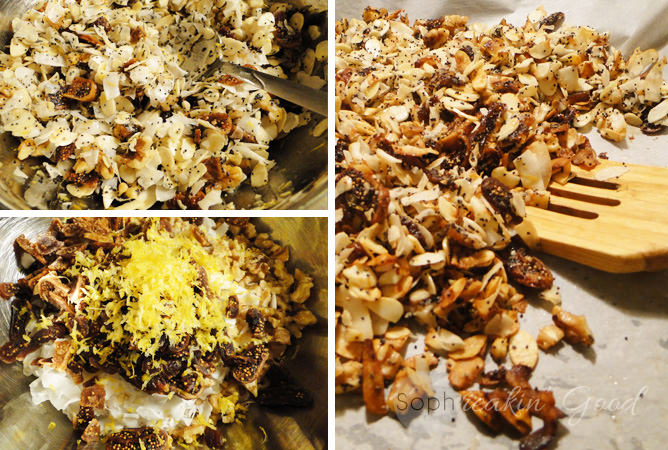 Directions
Preheat oven to 350

° F

.
In a large bowl, combine almonds, walnuts, coconut flakes, poppy seeds, figs and lemon zest – set aside.
In a small saucepan, combine lemon juice, coconut oil, maple syrup and vanilla. Once the mixture comes to a boil, remove from heat and pour over dry ingredient. Mix well so that everything is coated.
In a small bowl, whisk egg white until it is white and frothy. Pour over granola mixture and mix again to coat everything.
Pour granola out onto a parchment-lined baking sheet and bake for 5 minutes. Remove from oven, gently stir mixture to redistribute and bake for 2-3 more minutes.
Granola is ready when it is fragrant and golden brown.
Allow the granola to cool almost fully on the baking sheet – it will dry out a little bit and form nice clumps.
Enjoy!
Feel free to experiment with various nuts and seeds to find a granola combination that speaks to you! It's easy, delicious and sophreakin' good!
Ingredients
1/2 cup slivered almonds
1/2 cup walnuts (or pecans), coarsely chopped
1/4 cup coconut flakes
1 tbsp poppy seeds
6-7 dried figs, stems removed, thinly sliced
zest of 1 lemon
2 tbsp lemon juice
2 tbsp coconut oil
1 tbsp pure maple syrup
splash of vanilla
1 egg white