Sometimes you need some flatbread to dip, wrap or make into a sandwich. For those of us keeping it grain free and gluten free, this can often mean missed opportunities… until you've tried this plantain flatbread, that is. It is undoubtedly, one of the easiest ways to make a grain free flatbread, and it is sophreakingood.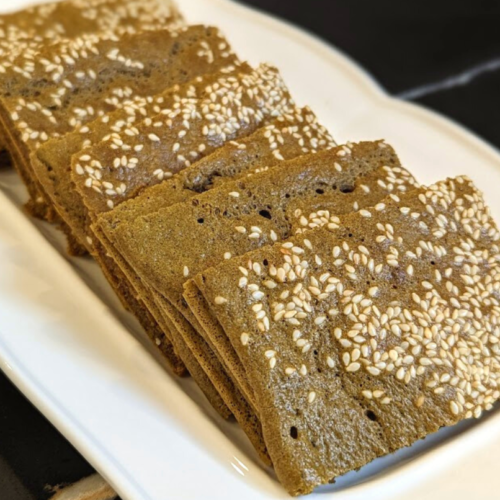 Gluten Free Plantain Flatbread
No flour of any kind, just a handful of real food ingredients!
Ingredients
2

plantains (as unripe, green and hard as possible)

4

eggs

1

tsp

baking soda

1

tbsp

coconut oil (or any other fat)

1

pinch

salt

sesame seeds
Instructions
Preheat the oven to 375°F and line a baking tray with parchment paper.

Peel plantains using either a sharp knife to slice the skin off, or by scoring along the ridges of the plantain and carefully peeling the skin off with the side of your finger. Cut into chunks directly into blender.

Add eggs, baking soda, coconut oil and salt and blend until completely smooth.

Pour onto a parchment lined baking tray and smooth out with a spatula. Sprinkle liberally with sesame seeds.

Bake for 10-20 minutes, or until golden brown. It should spring back when touched lightly.

Cool slightly, slice and enjoy!
Video