This lasagna uses grilled eggplant slices instead of lasagna noodles. It has layers of thick, hearty meat sauce and a delicious mix of mozzarella and feta cheese. This is the definition of comfort food, and also an amazing dish to serve if you're entertaining a crowd.
I had a whole internal monologue about whether I should call this dish lasagna or moussaka, since the latter is essentially a Mediterranean version of lasagna that uses eggplant instead of noodles. But then again I use shredded cheese instead of béchamel sauce… although I do use feta, which is a Mediterranean flavour… but then I used ground turkey, which is pretty North Americanized… and then I decided that the internal monologue had gone far enough and I was beginning to question my sanity. Lasagna shmasagna… let's get cookin'!
Quick Facts: If you don't have a countertop grill or a panini press (remember this recipe?), throw the eggplant slices on the barbeque! That is, of course, if you're not backyard-challenged (aka living in an apartment!)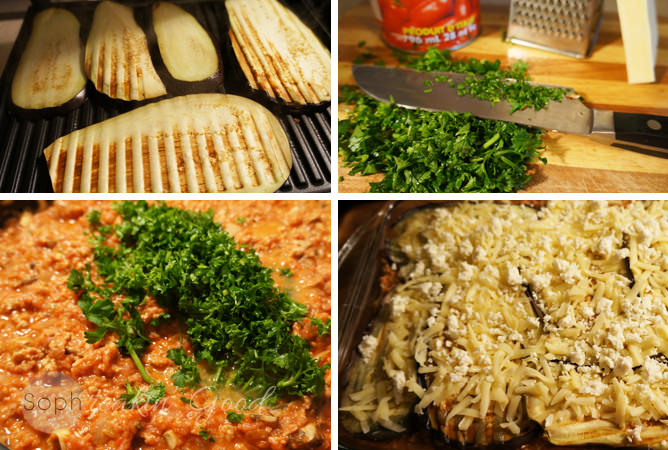 Directions
Eggplant "noodles"
Using a countertop grill or a panini press, grill the eggplant slices until tender. Place aside onto a large plate.
Meat sauce
In a large skillet, heat up butter and sauté onions and mushrooms until tender. Add in the ground turkey and spices and cook, breaking apart the turkey into small pieces.
Once the meat is almost cooked, add in Roma tomatoes and fresh herbs. Cook at a low simmer until most of the liquid has evaporated – this can take anywhere from 20-40 minutes.
Assembly
Preheat oven to 350

° F

.
Place a single layer of eggplant slices into a large glass baking dish. On top of this, add a layer of meat sauce (about half the sauce). Add another layer of eggplant slices and top with about half of the shredded cheese and half the crumbled feta.
Top this with the rest of the meat sauce. Finish with a final layer of eggplant and top with the second half of the shredded cheese and crumbled feta.
Bake for 15 minutes, until everything is warmed through and the cheese is melted and bubbly.
Instead of boiling noodles, grill some eggplant! It adds a whole lotta flavour and is sophreakin' good!
Ingredients
2 medium eggplants, thinly sliced
2-3 tbsp butter or ghee
1 large sweet onion, finely diced
6-7 cremini or button mushrooms, thinly sliced
1 kg ground turkey, beef, veal or pork
several pinches of good quality salt (such as Himalayan pink salt or Herbamare

®

)
freshly ground black pepper
1 tbsp ground coriander
1 tbsp paprika
1 tbsp turmeric
1 can peeled Roma tomatoes (28 oz), blended with an immersion blender
handful of fresh parsley (or basil), finely chopped
about 3 cups mozzarella cheese, shredded
about 1 cup feta cheese, crumbled