I don't know how it happened that carrots became relegated, in miniature, to sad-looking vegetable platters with dip. Carrots are among my favourite root vegetables – they're bright and crunchy when they're raw, and sweet and complex when roasted. This soup elevates the humble carrot to something decadent – and coconut milk transforms it into an absolute sensory experience. It's a taste of the tropics in the middle of the winter!
Quick facts: Carrots are rich in carotenoids, which are important fat-soluble antioxidants and give carrots their bright orange colour. Beta-carotene is converted into vitamin A in the body, a vitamin that is important for vision (especially night vision), cell development and a healthy immune system. This process requires fat, such as the fat found in coconut milk! Rich and delicious, coconut milk provides an ideal fatty vehicle for your vitamin A production needs. So sharpen up that night vision with some creamy carrot coconut soup!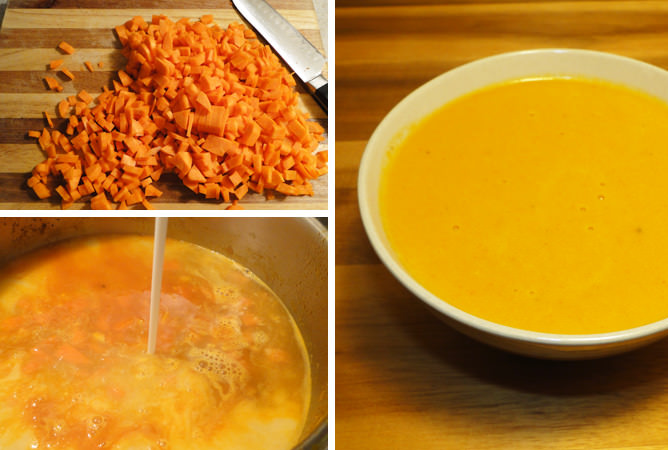 Directions
In a medium sized pot over medium heat, heat up butter.
Add chopped carrots, garlic and spices and stir together – fry vegetables and spices for several minutes in the bottom of the pot, until carrots begin to caramelize and garlic is fragrant.
Meanwhile boil a kettle of filtered water. Once carrots and garlic have sufficiently browned, cover halfway with boiling water. Add in celery and parsley (whole) and bring to a boil. Reduce to a simmer and cook for 10-12 minutes.
Using tongs, remove and discard cooked celery and parsley.
Pour in coconut milk and cook for an additional 5-7 minutes.
Using an immersion blender (or regular blender/food processor with the vent open) blend soup until completely smooth.
Taste and adjust for seasoning.
Serve immediately.
This soup is full of vitamins and delicious flavours! Get your vitamin A fix and add a tropical twist to your next meal with carrot coconut soup- it's bright orange and it's sophreakin' good!
Ingredients
1 tbsp butter, ghee or coconut oil
4-5 large carrots, finely diced
3-4 garlic cloves, finely chopped
1 tbsp turmeric
2 tbsp coriander
1 tbsp paprika
several pinches of good quality salt (such as Himalayan pink salt or Herbamare

®

)
freshly ground black pepper
boiling water
2 celery stalks, halved
handful of fresh parsley
400 ml can of full fat coconut milk