Let's be honest – the best thing about summer is barbeque. And the worst thing about April this year is that its still freezing cold outside. So what's a girl to do? I'm craving the smoky flavour of things cooked over charcoal, but still have to wear a thick jacket outside. Oven ribs to the rescue! They taste as if they came straight off the barbeque, smothered in a thick, sweet, sticky sauce that is very simple to make! Give these a try the next time you're craving something charred but are forced to wear a scarf outside.
Quick Facts: The sauce for these ribs is a combination of sweet and savoury flavours, as well as some key spices. I used smoked sea salt (the kind I used in this recipe), but these would work equally well with smoked paprika.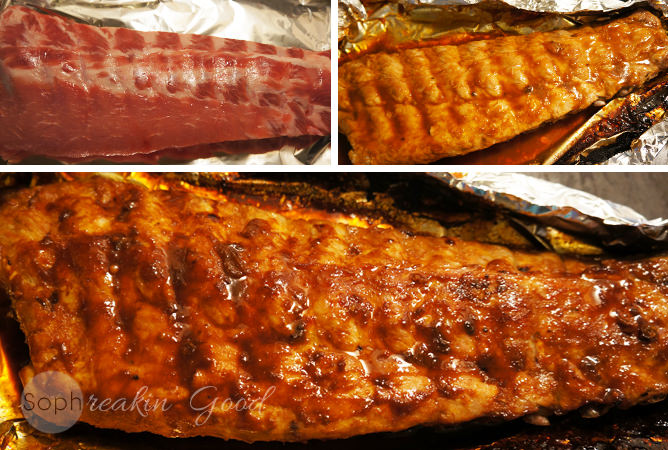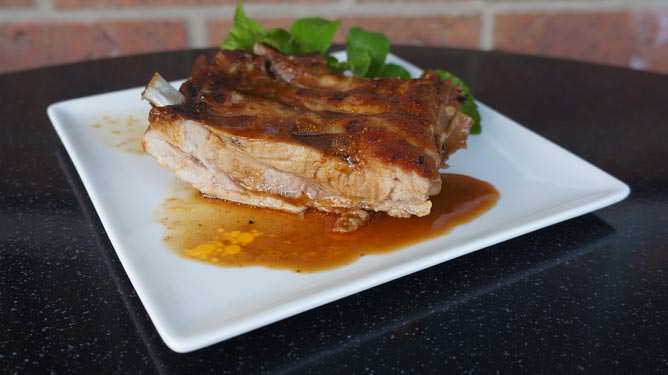 Directions
Preheat oven to 375

° F

.
Line a baking sheet with foil and place ribs in the middle.
In a small bowl, combine the rest of ingredients and mix well.
Pour the marinade over the ribs and use a silicone brush (or your hands) to ensure that the ribs are entirely covered in marinade.
Cover the baking sheet with another sheet of foil. Bake for 40 minutes.
After 40 minutes, remove the foil covering and use a spoon to scoop up some of the thickened sauce and spread it back onto the ribs.
Place the uncovered ribs back in the oven, turn up the broiler, and bake for an additional 10 minutes. Keep your eye on the ribs to make sure they don't burn.
Remove from the oven and cut into pieces. Drizzle some of the thickened sauce on top of the ribs and serve immediately.
Equally as good as their barbequed counterparts, these smoky oven ribs are messy, sweet, sticky and sophreakin' good!
Ingredients
rack of pork ribs
juice of 1/2 an orange
2 tbsp tamari
2 tbsp unsulphured molasses (or maple syrup)
1 tbsp paprika
1/2 tbsp ground coriander
1/2 tbsp instant granulated coffee
1 tbsp smoked sea salt
freshly ground black pepper
1 tsp cayenne pepper
1/2 tbsp granulated garlic