Garlic Shrimp with Spicy Mango Salad
So back here, I confessed that I never ate shrimp unless coconut was involved. Which was true, until my husband introduced me to the incredible idea that all shrimp really need is a skillet, some butter, and tons of garlic. That's right, he can cook… and he's introduced me to a whole new world of shrimp appreciation. Butter and garlic (and dill) pretty much make anything better, from potatoes to steak. And, obviously, shrimp. Add in this exotic-tasting mango salad and you've got dinner. The salad is sweet and tangy and spicy all at once and cuts through the flavours of the warm, buttery shrimp. The whole thing is just bursting with flavour, and goes incredibly well with a good sauvignon blanc.
Quick Facts: This mango salad is best made with a slightly under-ripe mango – it will still be sweet, but it'll be a bit sour and crunchy too. Not only does this help with the overall flavour of the salad, it also keeps it from being too mushy, and keeps the sugar content low.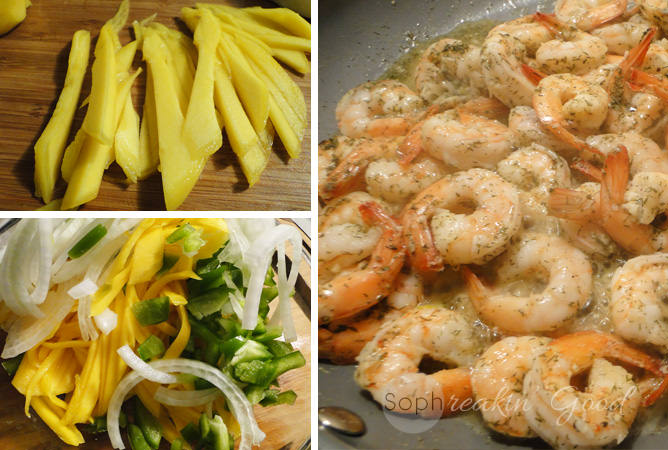 Ingredients
Garlic Shrimp
20-30 uncooked shrimp – tail on, de-shelled and de-veined, thawed and patted dry with a paper towel
2-3 tbsp butter
4-5 cloves of garlic, pressed
fresh or dried dill, the more the better
pinch of good quality salt (such as Himalayan pink salt)
freshly ground black pepper
Spicy Mango Salad
1 large, slightly under-ripe mango, peeled and cut into thin strips
1/2 sweet onion (or red onion), thinly sliced
1 small bell pepper, any colour, thinly sliced
the juice of 1 lime
1 tsp of cayenne (adjust according to taste)
pinch of good quality salt (such as Himalayan pink salt)
Directions
Melt butter in a large skillet over medium-high heat.
Add in shrimp, pressed garlic, dill and season with salt and pepper.
Stir occasionally and cook until the shrimp has curled up and gone from grey to bright orangey-pink – this should take approximately 5-7 minutes.
Meanwhile, combine sliced mango, onions and peppers in a bowl.
Stir together lime juice, cayenne and salt in a small bowl and pour over mango mixture.
Mix well and allow to sit for several minutes to marinate.
Optional: garnish with fresh parsley or cilantro.
There you have it – a ridiculously simple meal for any night of the week. Exotic, bursting with flavour, and sophreakin' good!
What did you think about this recipe?