First, an explanation: fresh pressed cottage cheese is just the closest phrase in English to describe tvorog. Sometimes referred to as farmer's cheese as well, tvorog is a fresh soft cheese that can be made either from whole milk or from yogurt, right at home. This recipe uses full fat, unflavoured yogurt and is more of a method than a recipe, because the only ingredient is the yogurt!
So, now that we know what tvorog is, let's talk about the yogurt used to make it. You could technically make tvorog from any unflavoured yogurt, but I suggest choosing a full fat yogurt with as few ingredients as possible. Lower fat yogurts will prove too watery for this recipe and give poor results. Unadulterated yogurt tends to have fewer ingredients because there is no need for additives like gelatin and guar gum to replace the fat. Lastly, there are a few tools involved in making this, but nothing fancy – a (non-silicone) oven-proof baking dish, a large strainer, and a piece of cheesecloth.
Quick facts: Dairy is a highly debated topic of paleo diets, which typically steer clear of processed foods, refined sugars, grains, legumes and often all types of dairy. However, fermented, cultured and full fat dairy products are often tolerated well even by those who do not tolerate lactose (which is surprisingly more common than most people assume!) What's more, good quality high fat yogurt contains probiotics which can help restore order after the fauna-obliterating effects of antibiotics, for example. Since the whey is drained and discarded in the making of this cheese, most of the lactose goes with it and you're left with a protein-packed delicacy that tastes incredible with fresh berries and a drizzle of honey, or as an accompaniment to grain free dark chocolate banana pancakes!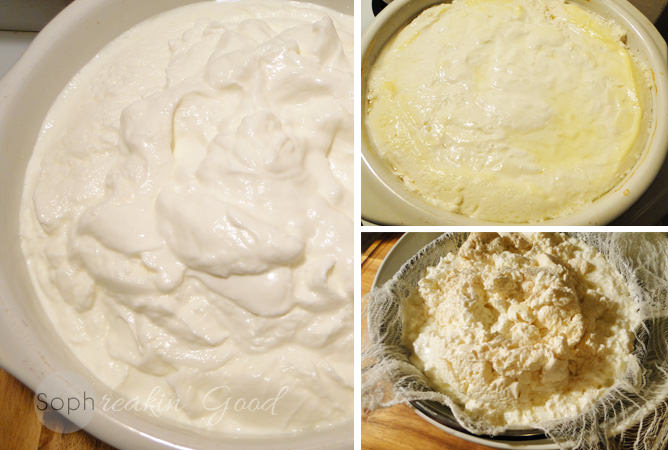 Directions to make the best pressed cottage cheese
Preheat oven to 300

° F

.
Empty yogurt into an oven-safe dish, such as the one pictured.
Place the dish, uncovered, into the oven for 2.5 to 3 hours.
The yogurt will curdle into a uniform mass that is slightly yellow in colour while the liquid whey will be bubbling around the edge of the dish (see picture).
Once the yogurt is done cooking, line a large strainer with cheesecloth and place it over a large bowl.
Let the cooked yogurt cool for at least half an hour in the dish. Once cooled, very carefully pour the contents of the dish into the strainer, making sure to pour away from your body to avoid any splashes.
Immediately, the whey will start pouring through the strainer and collecting in the bowl. Allow the cheese to drain like this for several hours, preferably overnight. Simply cover the draining cheese with a piece of foil and place the whole setup (bowl and strainer) into the fridge overnight.
Once the tvorog has drained, simply remove it in the cheesecloth and turn out onto a plate or into a glass storage container.
This recipe makes just under a kilogram of tvorog – the same principle applies whether you use one container of yogurt or ten (whoa… that's a lot of tvorog!) This recipe is more about setup than cooking per se, but it's totally worth it! Try making homemade fresh pressed cottage cheese – it's sophreakin' good!
Ingredients for this recipe
3 containers of full-fat plain yogurt (750g) (I use 6% Balkan style yogurt)