Coconut Chips
These coconut chips began with a trip to Chicago. There is a store in the States called Trader Joe's, where I bought an innocuous packet of coconut chips out of equal parts curiosity and love for all things coconut. I was hooked with the first bite. They were crunchy, slightly sweet, and so… coconutty! I ate an obscene amount of these coconut chips during our long weekend in Chicago, brought an equally obscene amount of them home with me, and have been exercising a warrior-like discipline so as not to finish them too quickly. And then I had an idea. Why not make them myself? Sometimes, it's the simple things…
Quick facts: Coconut is an excellent source of healthy fats. It is praised the world over for contributing to healthy hair, nails and glowing skin. With about triple the potassium of the average banana, coconut water is rich in electrolytes and therefore a great choice after workouts, or to help prevent muscle cramps from electrolyte imbalances.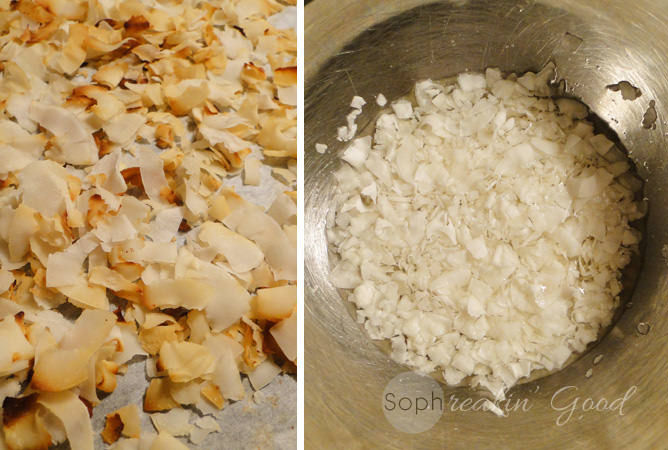 Ingredients
1 cup flaked coconut – the larger the flakes, the better (ensure there are no preservatives!)
1 cup pure coconut water
1 tbsp maple syrup
1 small pinch Himalayan pink salt
Directions
Whisk together coconut water, maple syrup and salt in a bowl.
Add coconut flakes into coconut water mixture, ensuring they are completely submerged.
Cover bowl with plastic wrap and refrigerate overnight, up to two days.
When you are ready to bake coconut chips, preheat oven to 200° F.
Pour the contents of the bowl into a strainer and allow excess coconut water to drain off into the sink. Press the flakes a few times with the back of a spoon to ensure that most of the liquid has drained.
Spread coconut on a baking sheet lined with parchment paper.
Bake in 10 minute increments, removing baking sheet from the oven and spreading the chips around in between. The amount of times you need to repeat this will depend on your oven, but it generally takes about three 10-minute sessions.
The chips are ready when they are a golden brown colour, fragrant, and mostly dry.
Once they are done, allow the chips to cool on the baking sheet for 10 minutes – they will dry out even more and become extra-crispy.

These chips are delicious eaten on their own, but they work equally well sprinkled over plain yogurt, added into granola, or as a topping for salads. Crunchy and slightly sweet, they are sophreakin' good!
What did you think about this recipe?