So pizza was a tender subject with me until a couple of weeks ago. There's a funny phrase that goes something like "To a guy, sex is like pizza… even when it's not that good, it's still pretty good". And therein lies the truth… even mediocre pizza is usually delicious. There's just something about the combination of cheese and tomato sauce and… crust. Even though I always left the top of my crusts on my plate, I could appreciate a good pizza crust; it's undoubtedly a quintessential vehicle for delivering topping goodness.
A few years ago, when flour and I still had some semblance of a relationship, I used to make a cracker thin pizza crust that was kind of a big deal. But then I stopped eating grains and pizza became one of those things… I wouldn't think about it until I would see one of those late night commercials with the cheese stretching across the TV screen in that sexy way that it does. And I'm not gonna lie… I missed it.
Regardless of my cravings, I refused to cave into the myriad of healthy pizza crust recipes that involved cauliflower. Don't get me wrong, I love healthy-fied recipes. And I love cauliflower. But really? Pizza crust? Cauliflower? WHAT? But yeah… if you've read this far, I doubt you'll abandon reading if I tell you that one rainy afternoon, I had a dramatic moment: I was holding a head of cauliflower (that was this close to being past due) in one hand, half a bell pepper in the other hand, and staring at a glass container of leftover roast beef in the fridge. And I decided to try it. Yes, I made cauliflower pizza crust. And yes, it was incredible. Yes, I could eat the pizza one handed without the crust flopping all over the place. And no, I don't miss pizza anymore. Because this pizza crust is grain free and has so much flavour that bread crusts now pale in comparison.
That's right, I went there.
You should too.
Quick Facts: This pizza crust is a cross between a crust and a crustless (oh, the irony!), cheesy quiche. The secret to the crust holding together so well is that the cheese is in the crust, as opposed to on it. And there's a few eggs in there to bind stuff, meaning that your pizza crust is now a source of protein. Oh, and there's a ton of garlic as well. Meaning that those commercials for pizzacrustgarlicbread mergers weren't that far off the mark.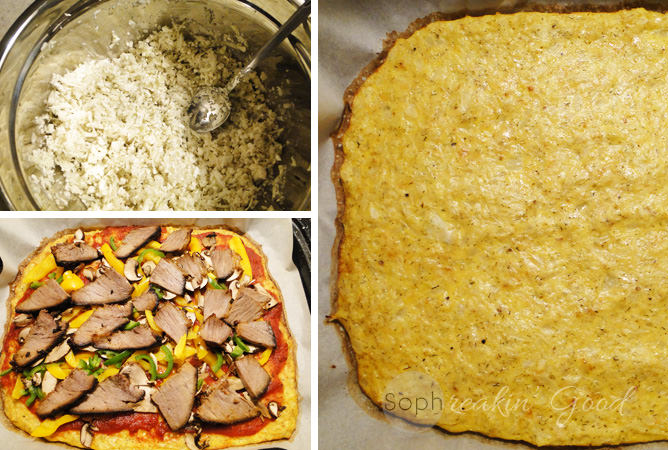 Directions
Preheat oven to 350

° F

and line a large baking sheet with parchment.
In a large skillet, heat up ghee and add cauliflower, onion, garlic, dill and oregano. Sauté for 5-6 minutes, or until garlic is fragrant and cauliflower is slightly tender.
While vegetables are sautéing, mix together grated cheese and eggs in a large bowl.
Add sautéed vegetables into cheese and egg mixture and mix well.
Pour mixture out onto baking sheet and spread out into desired shape. Make sure crust is about 1 cm thick throughout.
Bake for 15-20 minutes, or until crust is golden brown and firm.
Top with tomato sauce, assorted sliced vegetables and meats. I don't usually add cheese on top since it's already in the crust, but feel free to add more cheese on top as well.
Bake for an additional 5-10 minutes to heat up toppings.
Slice and enjoy!
This pizza crust is by far more flavourful than regular bread crust. Top it with whatever you like – my favourite combination is organic red pizza sauce, sliced bell pepper, mushrooms, jalapeño and roast beef. Oh, and mix together some homemade mayonnaise and a pinch of cayenne pepper for a dipping sauce that's sophreakin' good!
Ingredients
1 tbsp ghee (or butter)
1/2 medium head of cauliflower, grated (or processed in a food processor)
1 small onion, finely chopped
2-3 cloves of garlic, pressed
1 tbsp dried dill
1 tbsp oregano
2 eggs
1/3 cup cheese (mozzarella, havarti, etc), grated